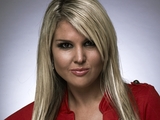 Michelle has spent most of the afternoon rehearsing for her performance of 'Pie Jesu' in front of the eviction crowd this evening - complete with professional choir.
Earlier today, Big Brother
informed
the Geordie housemate that for this week's 'Retrospective Task' she would be reprising her interpretation of the song made famous at the BB5 wedding.
"I know I'm all smiles and giggles now but later on I'll turn green [with worry]," Michelle said to Makosi as she waited for rehearsals to begin.
"I know myself - what I'm like. At the time I'll be like, 'I wish I didn't [have to do it]'."
"Steve [your boyfriend] will be there, you know," Makosi replied. "And he'll cry, how will that make you feel?"
When Michelle said that it would make her feel sad, Makosi reassured her that it would be a "good thing" and that she has nothing to worry about in her performance.
Big Brother then told Michelle that she could go to the task room to rehearse with the choir. Throughout the afternoon, the rest of the housemates could hear singing taking place.
"They are really pushing the vocals, aren't they?" said Brian later. "Michelle must be drained."
"She must be loving it, I love choirs," replied Ulrika.