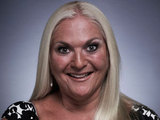 The housemates have been set a special TV show-based task, where Vanessa presents a fictional programme entitled
Feltz
.
Nick read out the task details, revealing that the show would be hosted by Vanessa and produced by Victor, with Michelle as the show runner and Brian as the floor manager. The rest of the housemates were told that they would be audience members.
Victor and Michelle joked that it was "a bit of a coincidence" that the task has been set a day after his and Nick's 'BBLBC' show was
rumbled
.
The crew members were given special task outfits, which included headsets, fake passes and a "camp" pink cardigan for Victor.
Brian's duties included warming up the audience, while Michelle was tasked with making sure that each of the crew and audience members were served with food and drink.
The four crew members were given special task outlines by Big Brother, and gathered in the nest to rehearse the show.
Vanessa was given detailed cue cards, along with planned segments, revealing that each member of the audience was actually a guest on the programme.
Vanessa read out the different segments, which included "I'm a grown woman, why can't I stop throwing tantrums?" for Nikki, "Nasty or Nice?" for Nick, "We found love on a reality show" for Preston and Chantelle, and finally "Is there a price to fame?" for Ulrika.
Brian debated whether some ex-housemates would also be in the audience, citing Shabhaz and Lesley as potentials.
After a full run-through of the show, the crew members returned to the house to get ready. When probed by Ulrika about what their role would be, Brian replied: "All to be revealed."
Each crew member got into character before the show began, with Vanessa asking Victor: "What's the name of our runner today?". Victor said: "Michelle, she's not bad. She's worked with Trisha, Montel and Jeremy." Vanessa replied: "I don't know if that's good pedigree or not."
Ulrika pretended to be a big fan of Vanessa's, saying: "I'm so pleased to meet you." Vanessa whispered to Victor: "God, those fans, they drive me crazy. Can you keep them away from me?".
Soon afterwards, Brian, Victor and Vanessa were called to the large task room for one final rehearsal, ahead of the show's broadcast.