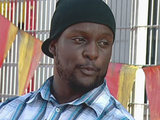 Victor's punishment continued this evening when he was forced to eat foreign delicacies as part of Big Brother's 'Tasteless Task'.
He had been told that he would face the wrath of the Tree of Temptation after failing a secret mission earlier in the day, and was forced to dress in a tree costume as a result.
However, the punishment didn't stop there as housemates returned from being locked in the bedroom for an hour to find nine covered plates of food waiting for them.
"In front of you is an exotic array of world foods," Big Brother announced. "In some areas of the world these foods are considered a delicacy, but in this part of the world people might consider them not to be!"
Victor was told that he would receive one point for every dish he sampled and one additional point if he correctly guessed its country of origin.
He then began by eating a Swedish dish of fermented herring, the smell of which made many of the housemates recoil and gag at.
"It reeks!" Nikki screamed as Victor moved on to eat his next plate of fermented bean curd.
He continued to successfully try all nine dishes, which included chicken's feet, colon sausage and an entire shot of cow urine from India.
"What did it taste of, poo?" Nikki asked as Victor finished the colon sausage. "Oh Victor, I'm going to give him such a big hug!"
Big Brother then announced that as Victor had successfully won 15 points in the task, housemates would receive a tasteful prize later on tonight.