Reality TV News
Nick opens up about 'nasty' BB1 antics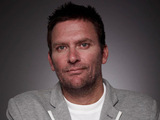 Warning:
This article contains language and/or sexual references that younger readers are advised to avoid.
Ulrika asked Nick to tell the group about his reasons for lying and cheating in BB1 this evening.
The housemates were chatting over a takeaway meal at the dinner table when she made the request.
"Nick is probably the reason that we're all here," announced Ulrika. "Yes. The show was shit until you started fucking with it," agreed Victor, before the former
Gladiators
presenter asked him whether or not he'd be willing to talk about his first experience in the house.
"Our show was so tedious, so dull. It was literally like a garden party," he began. "We had tasks, but they were week-long tasks, like baking bread. You realised that it was a gameshow, and
Survivor
had aired just before... the whole object was not to get voted out."
He continued: "The girls were using make-up to write names down. Darren was doing it too. The notes were in my suitcase but they were never actually used... I treated it as a gameshow and unlike other people, I never actually bullied anyone, I was never rude to anyone."
"What about the fibs?" asked Preston, referring to the fact that Nick told his fellow housemates that his wife had tragically been killed in a car crash.
"Well, we used to have every night a topic, like my first pet, my first girlfriend... and we'd have these conversations that were quite dull, for hours," he explained. "I thought naively at the time that what I said would be checked before it went out on TV... I regret it. Looking back it was the wrong thing to say because it was a blatant lie. I thought naively that it was just for that lot [of housemates]."