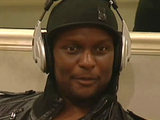 Victor became angry at Big Brother this evening, when he was told that he must keep wearing his Tree costume until further notice.
Earlier today, Victor
failed
his Tree of Temptation task and was punished by being forced to wear a special tree costume and take part in a task which involved
eating
exotic delicacies from around the globe.
After the party this evening, Victor entered the Diary Room to request that he be allowed to take off his outfit.
"I'm not sleeping in it. I'm taking it off and that's the end of it for me," he announced as he walked back into the living room. "I just won't participate in anything from now on.
"Do you think I would have eaten them things if they'd gone, 'This is half of the task' - bullshit. If they give me any other punishments, fuck it. I won't do it. I've been a good sport about it."
The other housemates agreed that they thought Victor had completed his punishment when they were awarded the party. Victor also described how Big Brother sounded "smarmy".
"How is that redeeming yourself if you have to wear it to bed? It's taking the piss out of me. Fuck that," he continued. "I played the game, now they're taking the piss."
Victor got changed out of the costume, before Big Brother called him back to the Diary Room.
"I just told them I'm not doing it no more," he recounted on his return. "[They said] 'We appreciate your efforts.' I don't care if you appreciate my efforts.
'We'll appreciate it if you take [the costume] out with you.' For what? For bonfire wood?"
Nikki empathised: "Poor Victor. He's been in girl bands, majorettes, been a tree, eating chicken feet, drinking coffee chucked up by jungle cats."