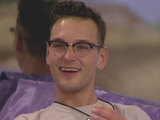 Preston told Vanessa this evening what made him storm out of
Never Mind The Buzzcocks
.
Vanessa approached Preston about his famous
walkout
on the music panel show, after revealing that she also had a bad experience on the quiz.
"Simon Amstell starts off and I'm laughing away and it went on and on and on. It never seemed to get to the point where we get to play the game," she said. "Then they became deeply offensive and incredibly upsetting."
The pair agreed that they had both tried to laugh off comments made by the host, but found that the jokes kept being repeated constantly.
"If someone makes a hateful comment about your wife and everyone laughs, you just have to get out of the situation," Preston said.
"She was my wife. I think at that time we were slightly starting to be rocky a little bit, which added to it. I was like, 'I'm not gonna sit here and defend her 'cos she wouldn't want that, that's embarrassing for her.'"
Preston admitted that while he expected to be slated on the programme - and wouldn't have minded it - he drew the line at hurtful remarks about his wife.
"My love for Chantelle was higher than my self promotion or whatever," he added.