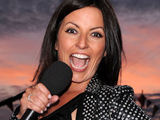 Davina has entered the Big Brother house and given each of the remaining contestants a letter from home.
The show host was tasked by the Tree of Temptation with telling each of the housemates that they are her favourite of the series.
One-by-one, Davina took the final nine UBB housemates into the wardrobe to give them a red envelope containing a letter from home.
Davina told Chantelle that she loves her "vulnerability" and then caused Brian to cry as his family wrote to him that he is "doing us proud and entertaining the nation".
Preston was told that he has been "so sweet" over being with Chantelle in the house. Davina then told Michelle that her fiancé is looking forward to seeing her "at the alter in a couple of weeks", surprising her as she has not yet planned the wedding.
Ulrika was congratulated for being "funnier" and happier", before Vanessa was praised for being "amazing" and told that she should get another chatshow.
Nikki told Davina that she feels inadequate in the house not being a past winner or celebrity, but Davina reassured her of her place.
Davina claimed that Nick has changed from his time on BB1. "You're so different, it's lovely, I like the not so Nasty Nick."
Victor was the first to guess that Davina was telling all the housemates that they were her favourite. "It's like Bruce Forsyth," he quipped.
The self-styled Slick Man then flirted with Davina, complimenting her bottom, though he admitted that her husband is better looking than him.
Davina then addressed the housemates as Big Brother announced that she must leave, saying: "It's meant as much for me to come in here and just be a part of it. My heart was pounding when I came in.
"I thought you'd be able to hear it on this [mic], it was very freaky. It seems very right for me to be allowed to come in like this and say goodbye like this."