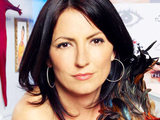 Davina said goodbye to Big Brother this evening in Big Brother's Big Send Off.
In between the two eviction broadcasts, Davina revealed to BBLB host George Lamb - and an audience of ex-housemates - her favourite moments from the past ten years.
"I'm a bit shaky, it's been quite an emotional day already," she said as she sat down. "There's a new DVD out, I'm gonna watch that back 'cause there's so many moments and you can't possibly remember all of them, there's ten years worth."
Despite avidly watching for ten years - or as Lamb had worked out, 2.5 million hours - Davina revealed that her all-time favourite moment was from Ultimate Big Brother, when Brian "spewed milk" after his chilli task.
"It was so graceful, he added the spin," she laughed.
Davina also named Josie and John James, Mario and Lisa and Michelle and Stuart as a few of her favourite couples. However, she said that Big Brother 9's Luke and Bex held the top spot.
She explained to Luke and Bex: "The reason why you were my favourite couple, like Helen and Paul you were the most unlikely pair in the history of Big Brother and I know you hate each other, [but] I watched you fall in love and it was very cute at the time."
Davina laughed as DJ Tim Westwood told her through a VT that his favourite moment was her interview with Big Brother 6's Sam in a bikini - before she named Stuart Pilkington as her sexiest housemate.
"Normally tanned, came in late, quite tall, most amazing muscles," she described, before Stuart appeared in just a pair of shorts.
Davina then confessed who her all-time favourite housemate was.
Before naming Glyn, Rodrigo, Josie, Rex, Nikki and Nadia as a select few, BB2 and UBB champ Brain was named her favourite against 267 other choices.
"He was in series two and for years and years up until Nadia came in he was my favourite," she said. "This Ultimate series has proved to us [that] the same Brian that was in year two hasn't changed."
Davina also had a few words of thanks for the audience.
"I hope that all of you know it was an amazing experience 'cause it was an amazing journey," she smiled. "I've learned a lot about life, like not judging a book by its cover, so thanks for teaching me."