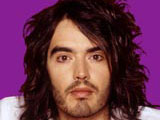 Russell Brand is the latest big name to be added to the Big Brother: Celebrity Hijack roster.
The 32-year-old comedian, who used to present Big Brother's Big Mouth, will be in charge of setting tasks and instructions for the housemates on Tuesday, January 8.
Brand will take over the duties from
Kelly Osbourne
, who will be Monday's celebrity hijacker.
Other famous faces to appear on the E4 show include Jimmy Carr, Joan Rivers, Brian Sewell and Malcolm McLaren.