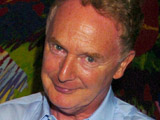 The housemates suspect that today's celebrity hijacker is Malcolm McLaren, the former manager of The Sex Pistols.
The group was awoken by one of the punk band's most famous hits, 'Anarchy in the UK' and the musical clue was soon seized upon.
Both John and Amy agreed that McLaren seemed the most likely candidate to hijack the house, and the Scotsman was eager for him to make his introductions, wailing: "When are we getting hijacked? Come on!"
Anthony confessed that he wasn't familiar with Malcolm McLaren and though he had heard the name, it was only because "he was in the paper before I came in".
"Do you know what he looks like?" the boxer asked inquisitively.
John replied succinctly: "An old guy."