Downton Abbey
star
Ed Speleers
has revealed that he was given walking lessons before filming began on the show.
The actor - who
plays footman Jimmy Kent
in the ITV1 drama - explained that he worked with historical advisor Alastair Bruce on his walking style, in order to "knock the waddle" out of him.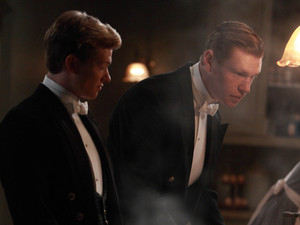 "Alistair said I had a bit of a waddle and he wanted to knock it right out of me. He got me marching, properly marching, all day," he told
The Sun
.
"He said Jimmy would have seen action in World War One and he would have been trained in how to march.
"So I had to de-modernise myself and go back into the '20s. It was very important for footmen to be upstanding. The costume helps.
"It may get hot, but every time this suit goes on my back instantly straightens up."
Jimmy Kent will join the staff of Downton servants in Sunday's (October 14) episode, forming part of a 'love square' with Ivy (Cara Theobald), Alfred (Matt Milne) and Daisy (Sophie McShera).
Talking about his time on the show so far, Speleers added: "The first day was like the first day at school.
"But the minute Rob puts his arm round you and gives you a coffee, you're away.
"I didn't have a rehearsal period to really get to know everyone - I had to arrive in the middle of the scene and hit the ground running. I didn't have time to think and that's the only way to approach it - just get on with it."
Downton Abbey
continues on Sunday, October 14 at 9pm on ITV1.