5
TV News
June Brown 'didn't expect tears' on 'Who Do You Think You Are?'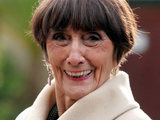 June Brown
has revealed that she did not expect to become emotional while delving into her family history on
Who Do You Think You Are?
.
The
EastEnders
actress is
the first famous face to explore her past on the new series of the BBC genealogy show
. Speaking to
TV Times
, she said that she found the experience "fascinating".
Brown explained: "I had a Scottish grandfather, an Italian grandmother and an Irish grandfather. I'm like a mongrel! I'm not truly English, but I know I'm Jewish through my mother's line. I don't think we'll find any blue blood flowing in our veins, but who cares!
"I think that everyone would like to know where they come from. My mother told me all about my relatives on her side, but it was great to look into it in more detail."
Brown headed to Holland to try to learn more about her relative Isaac Bitton, a "famous bare knuckle fighter".
"For me the experience was rather like reading a detective novel. I'm a very curious person. I like to know everything, really. I don't care what I find out as long as I find out something," she said.
However, the 84-year-old said that she felt an "affinity" with Bitton's mother Rachel after discovering that she had been widowed and lost her children.
Brown said of the discovery: "I didn't expect to weep. Though I had some waterproof mascara! I felt for Rachel, for the difficulty and sadness of her life."
Who Do You Think You Are?
featuring June Brown airs next Wednesday, August 10 at 9pm on BBC One.
> JK Rowling uncovers family lie in 'Who Do You Think You Are?'
> 'EastEnders' Dot is Christian role model, says BBC