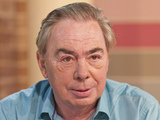 Andrew Lloyd Webber
's upcoming
Jesus Christ Superstar talent search
will reportedly allow female auditionees.
Sources say that the legendary producer is open to having a woman play Jesus in an upcoming arena tour of the rock opera.
"Andrew wants to create the best performance he can and if that means hiring a woman to be Jesus then so be it," insiders told
The Sun
. "For him it's all about the talent."
Famous females who previously took the lead role in
Jesus Christ Superstar
include Peaches, who fronted a one-woman production in 2010, and Amy Ray of The Indigo Girls.
A spokesman for the show said: "Our auditions are open to anyone and we're all very excited to meet potential auditionees."
Try-outs will take place between February and March in London, Dublin, Belfast, Manchester, Glasgow and Cardiff, with the most promising applicants going forward to the live shows.
Lloyd Webber has said that he is
looking for an actor with "enormous charisma, [who] also has to be a genuine rock tenor"
.
Nicole Scherzinger has reportedly
been approached to help judge the ITV competition
.
Jesus Christ Superstar
, which was written by Lloyd Webber and Tim Rice, will kick off its tour at London's O2 Arena.
> 'Jesus Christ Superstar' the reality show: Bonkers or brilliant?
> Tim Rice: Andrew Lloyd Webber Jesus Christ Superstar show sounds tacky