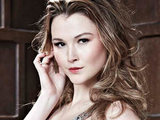 Made In Chelsea
star
Amber Atherton
has teased that
the show's third series
will feature "lots of new love and new characters".
Atherton said that fans will be impressed with the E4 programme's new cast members, which include entrepreneur Richard Dinan.
"We can expect lots of new love drama, lots of new characters, Mark-Francis [Vandelli] and I being our generally frivolous selves,"
Virgin Media
quotes her as saying.
"One of the new characters is a man called Richard with blond hair, who is going to be a bit of a heartbreaker from what I've heard. I don't know if anyone could ever steal Spencer [Matthews]'s crown but I'm sure he will pose an interesting threat."
Atherton also revealed that there will be tension between herself and Alice Davidson, cousin of Caggie Dunlop.
"[She] is actually interning with me at the moment so you'll be seeing some office drama there," she said. "There will be much more drama in the next series."
Atherton claimed in November that Emma Watson's brother Alex will
appear in the next run of Made In Chelsea
.
Original cast member Francis Boulle has been
suspended from the show for repeated lateness
.