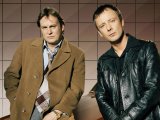 Life On Mars
co-creator
Ashley Pharoah
has admitted that he is "proud" of the US version of his show.
Pharoah described the ABC show, which transplants the action from '70s Manchester to New York, as "marvelous", adding: "We're really very proud of it".
The writer told
The Hollywood Reporter
that he supported the US producers' decision to change the show's direction - including the ending - as it could out-run the BBC's 16 episode storyline if granted a season pick-up.
Pharoah said: "They're changing the mythology, which I think is alright. It has to be different. Otherwise everyone just goes on YouTube and sees how it ends."
He added: "Some people back home didn't like the ending, but that was the end we had in mind from the beginning."
Pharoah is also pleased with the drama's gritty new tone, prompted by a change of location from Los Angeles to New York and replacing showrunner David E. Kelley with Cameron Roach.
"It was sun-drenched and rather pleasant," he said of the initial pilot. "The whole point of our show in Manchester and the one in New York is to show those mean streets and show how much has changed in these 30 years."