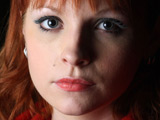 Georgia Moffett
has revealed that she was punched in the face for real during the filming of
Spooks: Code 9
- and was "pleased" by the experience.
The young actress, who plays psychology student Kylie in the futuristic show, told
Digital Spy
: "I got punched in the face! It was my fault though, because I was getting all like 'I wonder what it's like to be punched in the face?'
"Then after about two hours of shooting this scene I forgot to make eye contact with the guy, which is disastrous, and we misjudged where each other was and he just went [bang] at full pelt in my face."
Moffett, who recently starred in
Doctor Who
episode 'The Doctor's Daughter', confirmed that the footage of the punch made the final cut, saying: "It's in it! You can see the aftermath of it, which is me staggering around not knowing what's going on.
"We carried on, we're professional. It was fine! It's an experience that I'm quite pleased I had, because I wasn't punched in the face in an aggressive situation."
Spooks: Code 9
begins this Sunday, August 10 at 9pm on BBC Three.
> Click here for our full interview with Georgia Moffett