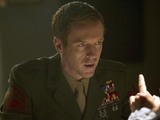 US drama
Homeland
continues to perform solidly for Channel 4, the latest overnight data has revealed.
Starring
Damian Lewis
and Claire Danes, the show last night (Sunday) climbed to its highest audience so far for
'Blind Spot'
, pulling in 2.11m (8.3%) in the 9pm hour and 351k (2%) on +1.
The critically-acclaimed series has not dropped below the 2m mark since
premiering last month (February)
.
The
Dancing on Ice
semi-final attracted 6.96m (29.5%) to ITV1 from 7pm (+1: 215k/0.9%), then Jennifer Ellison's
Skate Off
departure was seen by 5.76m (22.5%) at 9.30pm (+1: 237k/1.5%).
Sandwiched between the skating show, a one-off celebrity
Who Wants to be a Millionaire?
Mother's Day special entertained 5.43m (21.6%) between 8.30pm and 9.30pm, adding a further 155k (0.7%) on ITV1 +1.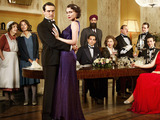 Upstairs Downstairs
's penultimate episode mustered 4.75m (18.6%) in the 9pm hour.
Meanwhile, strong performances from
Countryfile
(6m/26.3%) and
Antiques Roadshow
(6.2m/24.7%) helped ensure a solid early evening for BBC One.
Over on BBC Two,
Orbit
concluded with 2.57m (10%) at 9pm, prior to which
The Best of Top Gear
scored 2.21m (8.8%), beating Channel 4 Falklands War documentary
Most Daring Raid
, which took 1.57m (8.7%) and 212k (0.8%) on timeshift.
Elsewhere, Channel 5's screening of Will Smith's
I, Robot
appealed to 922k (3.7%) between 7.45pm and 10pm.
Across primetime, ITV1 came out on top with 22.6% (+1: 0.7%) against BBC One's 21.7%. BBC Two claimed third place with 9.3%, ahead of Channel 4's 5.4% (+1: 1.3%) and Channel 5's 3.9% (+1: 0.2%).
On the multichannels,
Being Human
(780k/2.9%) and
Desperate Housewives
pulled in 780k (2.9%) and 619k (3.5%) for BBC Three and E4 respectively.
Housewives
had a further 135k (0.5%) on E4 +1.
A
Benidorm
catchup on ITV2 amused 700k (2.7%) and 186k (1%) an hour later.
BARB ratings data supplied by Attentional