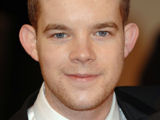 Russell Tovey
has revealed that he was forced to decline an offer to return to
Doctor Who
for the
fourth season finale
due to work commitments.
Tovey, who played Midshipman Frame in 2007 Christmas Special
'The Voyage Of The Damned'
, told
Digital Spy
: "I was meant to come back and do the finale of the last series, but I was doing a play. They rang up and said 'Russell would like you back in, are you available?' [but] I couldn't do it."
Currently filming
Being Human
for BBC Three, Tovey added that the idea for his return would have involved "Donna, The Doctor and [Midshipman Frame] in the Tardis looking for Earth. But then I would have got killed by a Dalek, so maybe it's a good idea I didn't come back".
The acclaimed actor also revealed that he would accept an offer to take over from David Tennant as The Doctor, although he would "probably choose the assistant role, because I think Midshipman Frame [could be good] as the assistant".
> Click here for our full interview with Russell Tovey