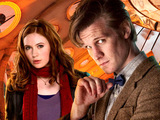 Matt Smith
has admitted that he is unsure about the prospect of a romance on
Doctor Who
.
Rumours have previously suggested that Smith's Doctor will have a romantic relationship with his new companion Amy Pond, played by Karen Gillan.
However, Smith told the
Chicago Sun Times
that he believes having a romance on the show would be "tired".
"There is always room for romance in
Doctor Who
but to be honest, the idea of the companion and the Doctor getting together is a bit of a tired story by now," he explained.
"There is only so far it can go. What happens? So, they get together, travel around the universe, end of story? There has to be more to it than that."
He added: "It has to be about adventure, magic and exploration. Those are the things we're interested in this season, really."
Doctor Who
continues on Saturday at 6.30pm on BBC One.