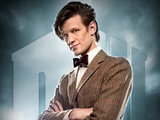 Doctor Who
star
Matt Smith
has said that showrunner Steven Moffat truly understands The Doctor.
Smith explained that Moffat has frequently encouraged him to include bits of his real-life personality while portraying the Eleventh Doctor.
"I think Steven has such a clear take on the show and The Doctor - that's the benefit of having a brilliant writer, he's got such a clear and inventive vision of things," he told
Bang Showbiz
.
"Regarding The Doctor, I'd like to think Steven's seen elements of me and is weaving them into his writing. It's a collaboration in the best sense of the word but make no mistake about it - he's the boss."
Moffat recently
expressed frustration that avid Doctor Who fans sometimes "threaten" him
when they don't like an episode.
Doctor Who
continues on Saturday on BBC One in the UK and BBC America in the US.
> Doctor Who John Barrowman: 'Matt Smith is so different from David Tennant, Christopher Eccleston'
> Doctor Who Arthur Darvill: 'The Silence are my favourite monsters'
Watch
Digital Spy
's recent interview with
Doctor Who
star Arthur Darvill below: