Cult News
Billie Piper not ruling out 'Who' return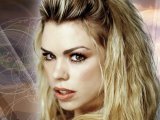 Billie Piper has refused to rule out the possibility of a return to
Doctor Who
.
The actress played the Doctor's companion Rose Tyler on the hit BBC One show for two years, before she decided to leave and pursue other acting projects.
"I don't think it will happen any time soon but the door is slightly ajar," Billie told
Parkinson
. "It's such a lovely part but I tried to do it the other day and I couldn't do it - I can't do Rose any more!"
She continued: "I was having a go the other day, I saw David [Tennant] the other day in fact, and we were just having a laugh - and yes, Rose wasn't so good!"
Parkinson
airs at 11.20pm tonight on ITV1.