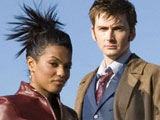 Classic
Doctor Who
monsters The Sontarans will reportedly make a comeback in the next season of the revived show - following an absence of two decades.
The Sun
claims that former
The Young Ones
star Christopher Ryan is playing one of the villains, notorious for their warmongering nature and heads that resemble a jacket potato.
"I'm absolutely delighted to be appearing," the actor told the tabloid. "The last time I was on
Doctor Who
it was 20 years ago and Colin Baker was the Time Lord."
Ryan previously appeared as Lord Kiv in the 1986 adventure 'Mindwarp', playing a dying member of the amphibious alien race The Mentors, who counted the evil Sil amongst their number.
The Sontarans, an all male species who survive through cloning, first appeared opposite Jon Pertwee's Third Doctor in the 1973 adventure 'The Time Warrior', which also introduced companion Sarah Jane Smith.
They subsequently faced Tom Baker's fourth incarnation in 'The Sontaran Experiment' and 'The Invasion of Time', before battling both Colin Baker and Patrick Troughton's versions of the Time Lord in the 1985 story 'The Two Doctors'.