Cult News
Piper worried about 'Doctor Who' return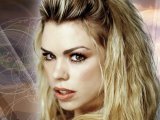 Billie Piper has expressed fears about reprising her role as companion Rose Tyler in the upcoming season of
Doctor Who
.
"I am a bit worried about getting back into the groove," the newly-wed actress told
The Sunday Mirror Magazine
. "I was shocked and saddened the other day when I tried playing Rose Tyler, to myself, in my bathroom - and I couldn't do it. I tried and tried and it had gone - hopefully not for good."
In November, the BBC
officially announced
Piper's return to the series. It is believed she will feature in three episodes, one of which will reportedly involve
teaming up
alongside
Doctor Who
regulars Catherine Tate and Freema Agyeman - but not David Tennant.
> Which is your favourite of the new companions? Click here to discuss on the forums.