Cult News
Interview: Nick Briggs ('Doctor Who')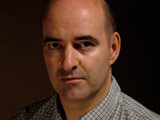 Ever wondered who was responsible for the terrifying cries of "Exterminate" and "Delete" that sent a nation of children scurrying behind the sofa? Step forward Nick Briggs. Not only does he perform vocal duties on the Daleks and Cybermen in the revived
Doctor Who
, but he is also heavily involved in the show's audio-spin off dramas from Big Finish. We spoke to Nick at the launch of their new download service - and much to our relief, he used his normal voice.
How did you first become involved in the Doctor Who audio spin-offs?
"I was involved with a group of fans years ago just after I left drama school in the early 1980s, doing
Doctor Who
audio drama for fun in which I played The Doctor. I did the Daleks as well - so I got to talk to myself, obviously! And Gary Russell got involved in that, who now works as a script editor for BBC Wales on
Doctor Who
,
Torchwood
and
Sarah Jane
. We had such a fun time doing it for fun that we made a promise to ourselves that we would try and find a way to do it officially. Gary worked very hard on that and got Jason Haigh-Ellery on board with his company Big Finish. We eventually managed to secure this licence to do it for the BBC."
Was there ever a stage after the original show was cancelled when you felt that Doctor Who would never return to television and would live on solely through Big Finish?
"I think I probably did believe it would never come back. At the time it finished at the BBC it had just become so unpopular internally. I don't think anyone wanted anything to do with it. I think if they could have found someone who wanted to produce it after John Nathan Turner it may have gone on, but I don't they could find anyone. Then of course they had the mad idea to sell it to America. That, allegedly, is what killed it on British television. So I suppose I had got over the grieving and I thought 'that's it' and
Doctor Who
would survive as books and audios and conventions and stuff... but thank goodness it didn't."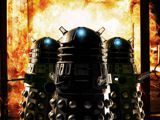 How did you feel when it was announced that it would return to our screens?
"I was so massively excited... and also really thrilled that Christopher Eccleston was doing it because he's been one of my favourite actors for a long time. He kind of polarises opinion doesn't he? Some people just don't buy him as an actor - full stop. I've always admired his works."
A portion of fans weren't keen on his comedic abilities and accused him of 'gurning'...
"Human beings don't like the unexpected. We all like things to be safe and normal and they're used to Christopher Eccleston looking a certain way. And he does have the most expressive face. That alleged gurning that people say he does in the part, and I didn't think that, he used to do that every morning on the set when I said 'hello' to him. That's what Christopher Eccleston looks like when he smiles. That's not gurning. He's got a big face and when he smiles it changes radically."
There was a recent story in The Sun about the Terry Nation Estate blocking various DVD extras because they didn't want the Daleks to be seen in a certain light. How have they been like to deal with in terms of the Dalek involvement in Big Finish stories?
"No problems whatsoever. They're very good and Tim Hancock, who is the main guy there, is a lovely bloke and really personable and approchable. If there were a problem I'm sure he'd just phone me up. It's a very friendly relationship."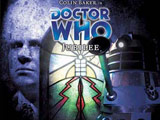 The Big Finish dramas 'Jubilee' and 'Spare Parts' have both been adapted for the new television series. What other audio stories do you think could translate well to the small screen?
"I haven't thought about that really. I'd love to see someone try to do 'Creatures Of Beauty', which I wrote all in the wrong order, for no real reason. That would drive people potty."
The concensus among fans seems to be that 'The Chimes Of Midnight' by Rob Shearman is worthy of an adaptation...
"Oh, that would be brilliant. That would be excellent. That was voted the top ever Big Finish
Doctor Who
play. It's got a fantastic structure and is set inside an old house. It turns out that the house is alive... it's a really weird story and has a circular pattern to it and time keeps shifting."
What is your involvement in the next series of Doctor Who?
"I haven't been involved in it. I haven't done anything for the fourth series. They are still filming though, so hopefully there will be a phone call."
When it comes to you voicing the Daleks and Cybermen on television, there seem to be strong echoes of their 1960s personas...
"That's all down to the writing as well. But with Russell [T Davies], people of our age go back to the 60s and say 'weren't the monsters more effective then?' I think it all got a bit daft [in the 1980s] when they Cybermen were clenching their fists and going 'excellent'. Maybe it seemed like a good idea at the time. It's funny, because a lot of the 80s stuff looks more dated than the 60s stuff now. The Daleks ended up just sounding a bit cross and a bit stupid later on."
Being a long term fan of the show, is it hard to remain 100% professional when you're on the set and they're making Doctor Who?
"Haha, well I don't run around and ask for people's autographs. 'Oh Billie, Billie - give me your autograph!' I suppose I did have to pinch myself a little bit when I was first on the show, yeah. I've got remarkably cynically used to it now. I'm a bit of an old hand at it now. They're very welcoming and David Tennant, bless him, said 'I think of you as one of the regulars'."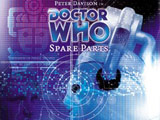 Are there any particular monsters from the classic series that you'd love to resurrect for the audio dramas? And are there any you feel are best left in the past?
"I say 'never say never'. A lot of the reason a lot of people don't like some of the old monsters is that they maybe looked a bit rubbish..."
The Myrka for example...
"We brought The Myrka back in a story called 'Bloodtide'. It sounded amazing, it sounded like something out of
Jurassic Park
. That's the brilliant thing about audio - The Myrka can be fantastic! You could do the Krotons and make a really exciting story. Of course they looked a bit rubbish on television. I'd love to do the Krotons and the Wirrn, not that I'm having a Robert Holmes fest here. You can have a vast landscape of Wirrn and human beings locked in mortal combat.
"Everyone jokingly says to me, 'what about doing Bandril Empire, Nick?' and I suppose I can safely say that I'm not leaping to bring the Bandrils back. Or indeed the Mandrils! I was offended by their flared legs... although 'Nightmare Of Eden' is a blooming good story. It's just really badly done... just imagine that directed by Graeme Harper."
There are big rumours about Davros coming back to our screens. There was a big criticism that the Daleks suffered after his first story 'Genesis of the Daleks' because they became rather impotent and mere tools for Davros. Do you think there's a danger of that happening again?
"Well, I suppose that would be a possibility... but if Davros were to come back I don't think that would be a problem. I think Russell [T Davies] would still give the Daleks interesting stuff to do. I remember getting a text from him while we were doing 'Daleks In Manhattan' I think, and he was complimenting me on the rushes and saying 'well done'. He said that the idea that Daleks are boring to listen to is just a myth. He believes that Dalek dialogue can be interesting and exciting and I don't think he'd ever relegate them to that."
Nick Briggs has written, directed and voiced various monsters in a range of spin-off Doctor Who audio dramas from Big Finish, which can be downloaded from www.bigfinish.com