13
Cult News
New 'Doctor Who' timeslot causes controversy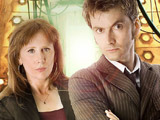 The BBC's decision to broadcast the first episode of
Doctor Who's
new series in an earlier timeslot than usual has sparked a wave of complaints from fans.
The science fiction show's fourth season will commence at 6.20pm on Saturday, April 5 as opposed to the usual 7pm screening. The audition-based reality show
I'd Do Anything
has instead been preferred for the later primetime slot, when more families are likely to be watching.
Doctor Who
fans have widely condemned the move on the
Digital Spy
forums, as viewing figures have fallen whenever the show has been broadcast before 7pm over the past three seasons.
Forum member 'prking' from Weston-Super-Mare said: "6.20pm is too early. When its been on at an earlier time in the past few years the ratings have dropped. I'll have to record it as we don't get home home on a Saturday until 6.45-ish". 'Djonshore' from Wales added: "I guess before long it'll be at the 5.30pm timeslot like the old days."
However, 'torchwood08' said: "Great news but isn't 6.20 really early?? Anyway who cares - He's Back."
Last year, the programme's executive producer
Russell T Davies
told
Doctor Who Magazine
: "I don't like it being on before seven o'clock. It just feels "lesser" at that time of day."
> Click here for our look at Doctor Who's past timeslots