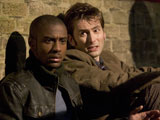 An episode minus The Doctor and his companion is always bound to be a tricky proposition, with viewers so accustomed to the familiarity of our heroic time travellers lighting up our screens. Not even Moses could have so definitively parted the opinion amongst fans on 'Love & Monsters', last year's deviation from the norm. However, with 'Blink', writer Steven Moffat has conjured up an intricately plotted, emotionally resonant and downright creepy episode that deserves universal acclaim.
Like Moffat's second season classic 'The Girl in the Fireplace', a non-linear narrative is carefully constructed with every element finally coming together as the episode progresses. Temporal jumps can easily baffle your average viewer, but to its credit, 'Blink' remains thoroughly accessible and even has time to joke about the 'wibbly wobbly' style scientific jargon that thankfully doesn't dominate the episode.
The character of Sally Sparrow is excellently portrayed by Carey Mulligan. We know little of her background, but an intriguing inner sorrow and melancholy is conveyed through her general mannerisms and expressions. Sally shows a distinct lack of fear when pursuing the truth about the Weeping Angels, with a somewhat stony exterior herself that we can infer has come from some past hardships in her life. The family unit has been a key component of modern day
Doctor Who
, but the Sally we meet is noticeably isolated.
Director Hettie MacDonald does a fine job in ensuring the episode is tonally spot on for Saturday evening family entertainment. 'Blink' is bound to give a few children nightmares, but that should be applauded. It's fantastic to know that a nation of children are being exposed to intelligent, non-violent and non-crude fare that is bound to broaden their imaginations. Not sure what it will do to their eyelids though…