0
Cult Spoiler
S04E08: 'Silence In The Library'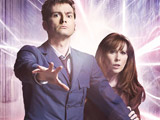 Aired Saturday, May 31 2008 at 19:00 BST on BBC One
Feast your eyes upon the latest round of spoilers as
Doctor Who
returns from a
Eurovision
induced break. Steven Moffat is also back as a writer and the show unsurprisingly takes a darker turn, both visually and thematically. Too many of the episode's elements are riffs and variations on components of previous
Who
scripts by Moffat, but the story is nonetheless thrilling and full of tantalising mysteries. Alex Kingston and Colin Salmon are wonderfully cast in their roles and give a great deal of depth to proceedings. Check back on Saturday night for our full review, but in the meantime here are a few teasery hints and two red herrings for you to fish out...
There is a Jeffrey Archer continent in the library.
Donna tells The Doctor that she "likes a bit of Hank Marvin" when he warns her about the shadows.
Data Ghosts are footprints on the beach - and the tide is coming in.
The Doctor rants against reading spoilers (irony noted!)
There are two sonic screwdrivers featured in this episode - and neither is any good at dealing with wood.
Psychic paper is used to contact The Doctor, in combination with a kiss (but not from Donna).
Donna flicks through a biography of Harriet Jones, but has to run away before she reaches the final chapter (although viewers see its shocking title, unlike Donna).
A figure from The Doctor's future makes an appearance.
A Dalek's eye stalk is brought up by The Doctor out of nowhere.
> Click here to read our review of last week's episode