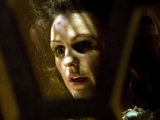 'The Doctor's Wife'
was certainly highly anticipated, but it's always unexpected to see an episode live up to its hype, particularly a standalone story in the middle of the series which has little reference to the ongoing 'Silence will fall' arc.
Featuring a human Tardis played by Suranne Jones, Neil Gaiman's first story is unlikely to be his last, after a whopping 70.1% of you thought the episode was 'Excellent', and 17.8% considered it 'Good'.
Only 7% voted 'Okay', with 2.8% clicking 'Not Good', and 2.4% deeming it 'Awful'. Overall therefore,
Tube Talk
readers gave 'The Doctor's Wife' a score of
9.0 out of 10
.
We'll be back tomorrow evening for our next poll on the Matthew Graham-penned 'The Rebel Flesh', where you'll be able to offer your views on the first part of a traditional siege adventure.
> Click here for ten teasers about 'The Rebel Flesh'