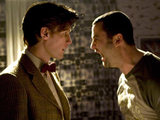 It was
EastEnders
meets Narnia in
Doctor Who
's latest episode 'Night Terrors', penned by Mark Gatiss and guest starring Daniel Mays.
Creepy, self-contained and having very little in common with 'Let's Kill Hitler', was last night's episode light relief, or were you left reeling by the lack of any River/Melody reference?
Vote in the poll below then deliver your verdict in the usual place at the end of this entry.