0
Cult Spoiler
S02E03: 'To The Last Man'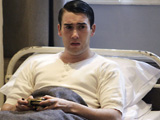 Aired Wednesday, Jan 30 2008 at 21:00 GMT on BBC Two
Serving up a more character-based drama than the previous two episodes in the season, 'To The Last Man' revolves around a young soldier who has to play a vital role in saving mankind. Here's a few teasery spoilers, with one fake one lurking somewhere to throw you off the scent.
The action partially takes place at St Teilo's Military Hospital in 1918.
The Torchwood Institute once had people called Gerald and Harriet working for them.
Gwen is menaced by a one-legged man in a hospital. Very David Lynch.
Captain Jack has sealed orders from past Torchwood employees that can only be opened at a certain critical time.
Owen discovers that he is to become a father after a fling with a lady who is out of this world. Literally.
A blank piece of paper is deployed by Captain Jack to explain how a Time shift works.
Two of the Torchwood team share an almighty - distinctly non-platonic - snog.
Toshiko wears a dress for an important day at the office - and we get to see her flat!
The final shot of the episode is unbelievably moving and brilliant.
> Click here for our review of last week's episode 'Sleeper'