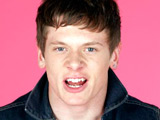 Former
Skins
star
Jack O'Connell
has revealed that he is mostly recognised for his role as Cook in the E4 teen show.
The actor, who is due to appear alongside Aisling Loftus in BBC Two drama
Dive
, admitted to
TV Choice
that fans often expect him to act like his rebellious character.
"[It's] not an issue because Skins is cool, so it could be worse." he said. "If I'm out with my relatives and anyone recognises me I want them to bear that in mind - but don't think I'm like Cook and expect me to get naked!"
O'Connell also explained that he found it easy to work with new co-star Loftus.
"We had a good relationship off camera before we started filming because we'd been to the same drama workshop, so it wasn't difficult to find it on camera," he said.
Dive
is due to air in July on BBC Two.