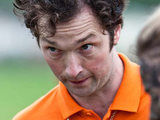 Chris Addison
has said that people are too old for
Skins
once they are in their 20s.
The comedian, who plays Professor David Blood in the E4 show, told
Metro
that fans of the first series may well have moved on from the drama.
Asked if the show gives the youth of Britain a bad name, Addison said: "Not particularly, it's just a drama show. Once you're in your 20s,
Skins
isn't for you anymore.
"This is the sixth series, so there must be people who were 18 when it first came out who are 24 now, who might feel they're too old for it."
He added: "If you're older than that you can look at it and feel a mix of jealousy, lust and fear.
"It's brilliant, though. I love it because it's much more alive than a lot of British TV drama."
Freya Mavor, who plays Mini in the current series,
said last year that it was
"amazing" to work with Addison and that he was "like one of us" on the set of the show.
> Skins Jessica Sula interview: 'Grace is less annoying now'
> Skins Dakota Blue Richards Q&A: 'Franky's storyline is so strong'
Watch the cast of
Skins
tease details of the sixth series below: