Skins
began this series with stories of grief after Grace's death. Those emotions faded slightly in the last couple of episodes, but they were brought back to the forefront in the latest instalment.
We knew from what we'd seen before that Liv hadn't been dealing with her loss well, but as the scenes unfolded tonight it became clear just
how
badly she'd been coping.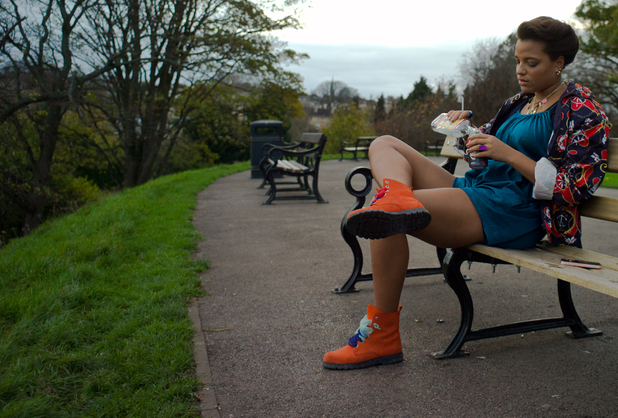 She's somehow managed to isolate herself from her normal group of friends so when Alex decides to head off for a trip with his latest squeeze, she's left feeling alone (with no-one else to talk to, she's taken to speaking to Grace).
Liv's clearly feeling confused - Mini points out that she won't even say Grace's name, but in a very touching sequence, she watches a video on her phone that Grace filmed for her and lets a solitary tear roll down her cheek.
Things take a turn for the worse, though, when Liv starts to feel crippling pains and finds a lump in her stomach. Worried that she's really sick, she calls Alex - but he's already left his boyfriend to move onto someone new. And when she tries to speak to Mini and Franky, they pretty much shun her. In desperation, she turns to a surprisingly sweet Doug, but of course he can't promise her that she'll be alright.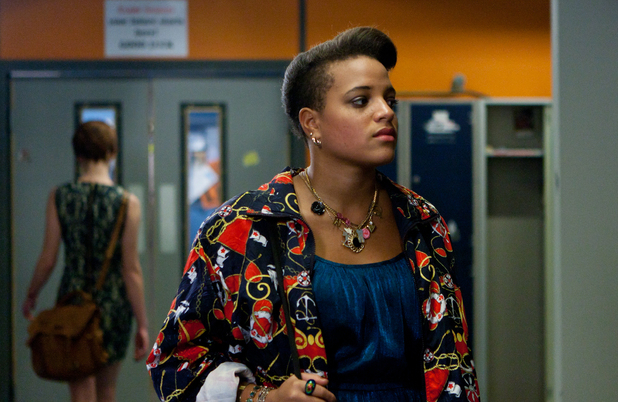 Liv's too terrified to go to the doctor, and her little sister - constantly asking for reassurance that Liv won't die like Grace - isn't helping matters. Soon, Mini tries to make things up with Liv but it ends up in a Franky-Liv fight, as Liv blames Franky for Grace's death and everyone's real, horrid feelings come out (resulting in a slap).
Franky's furious but still wants Mini to reveal the truth about her pregnancy, although Mini can only get out that she's been having sex with Alo before Liv interrupts her. There's a stunning silence when I think Liv's figured it out, but she hasn't - or at least if she has, she's in denial about that too. It's a classic situation of two people with their own problems who just need the space to talk and listen, but neither realises that the other has a lot on their plate and all that results is resentment.
The pair do have a sweet moment on the phone later, but Liv's even burning her bridges with Rich, furious that he's not grieving in the same way as her. Eventually, though, she finds herself at a protest... with Grace. They have a typically cryptic conversation - "use your bonce" - but it does make Liv think.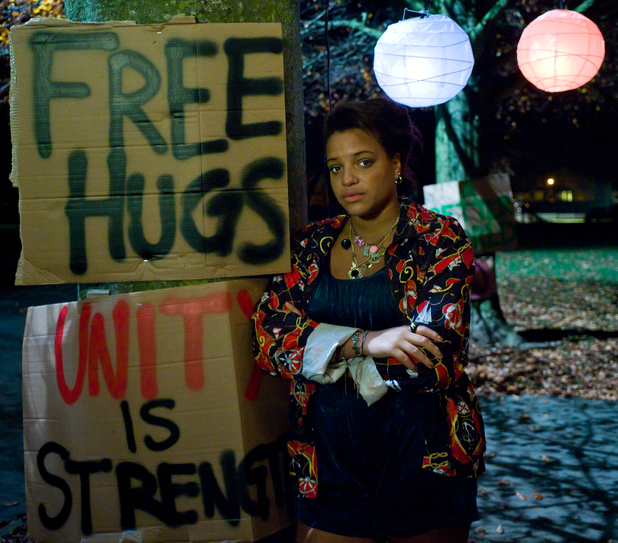 Still, when she returns home she finds Matty waiting for her - he's been smuggled in from Morocco, finally. She reluctantly takes him to see Franky, who wastes no time in coldly telling him that she's now having sex with his brother, and she doesn't care about him any more.
Mini's furious with Matty too, and takes it out on Liv, who's stuck between a rock and a hard place. It ends up with a much-anticipated fight between the girls, which is just as dramatic and awful as you'd expect. Seeing Mini with blood on her face, tearfully begging Liv to stop because she's pregnant, is horrifying. And more importantly, it highlights just how much Grace's death has torn them apart - Liv refuses to believe the news as it's something Mini would have told her.
The revelation forces Liv to finally go to the doctor to get her lump checked out - she's so desperate that she asks the receptionist to look at it for her. Only, there's no lump - it's all been psychosomatic. That's awful enough in itself, as it shows just how much grief Liv is feeling, but this seems to be a turning point - she 'saw' Grace waving at her as she went into the doctors', and after discovering that she's not ill she sobs and hugs the receptionist and finally says that her friend Grace has died.
Interestingly, the imagined lump seems to partly have been a result of Liv's fear that she will die, too - not only was she sad about Grace, but terrified about her own future. The episode ends on a surprisingly uplifting moment, though, as Doug takes Liv, her sister and Rich to visit Grace's grave.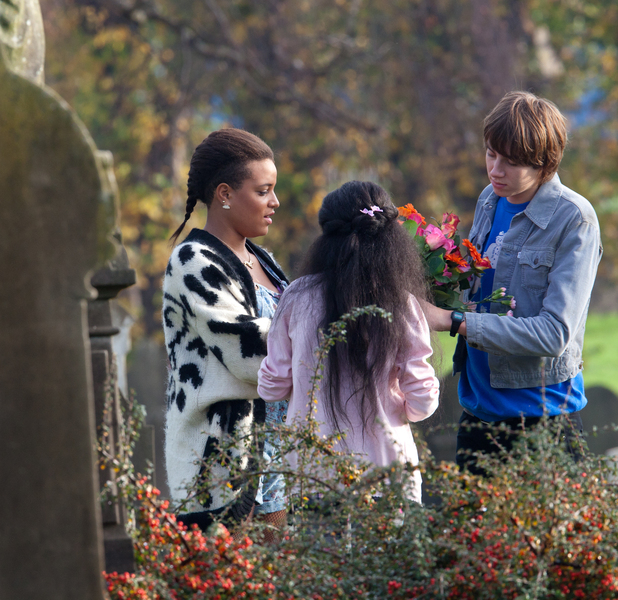 Seeing Rich's own grief is stunning, too. Earlier, Liv had almost accused him of not being sad enough, but it's clear that he is still devastated; he's just already reached the acceptance stage, unlike Liv (or at least, unlike Liv up to this point). The episode closes with Doug, Liv and her sister jumping up and down and dancing around the grave, in a lovely tribute to the video Grace had filmed.
This was another wonderful episode of
Skins
then - emotionally draining, but with some really interesting ideas about grief, friendship and the future. What did you think?
What's the Skinny?
Liv's always been the good time girl, but it was clear that her drinking in this episode (even frowned upon by Franky) was a sign of something horrible. Interestingly, we've been here before - in her episode last series, Liv was the one who downed those bottles of vodka in a twisted attempt to apologise to Matty and Mini.

It's exam time at Roundview. When do these kids have time to revise?

The scene at the party as Liv looked out at the alleyway was really quite haunting - I'm glad Grace didn't show up then, as it would have been a bit obvious.

Why is one single tear always more effective? No matter - the scene as Liv watched Grace's video was so sad.

I like Liv's jealousy of Alex and his little liaisons.

No-one noticed that Maud's sister had stopped washing. Such a sad cry for attention - what is going on there?

When Liv was prodding at the (non-existent) growth in her stomach, I'll admit I squirmed a bit. It was a little gruesome, for some reason.

"Mostly, we f**k. He says he's never really enjoyed it before." Oh, BURN.

"Go to the nurse - she'll have a feel. She always does for me."

Doug was so loveable in this episode, but I particularly liked it when Liv told him that she hopes he likes horse riding, and he replies: "I hope you like everything." What a simple, beautiful sentiment.

Franky hears Liv talking about her "wh*ring around". Awkward.

The doctors' receptionist turned out to be lovely, but I was not impressed when she turned Liv away because they closed ten minutes ago (even after Liv says she waited for half an hour so she "didn't have to come in"). Where's the compassion?

"Next time somebody tries to give you this excuse you absolutely must not believe them, but I'm gay - it doesn't matter I'm naked."

The Mini-Liv fight was really pretty shocking, right?
What did you think of the episode? Leave your comments below!