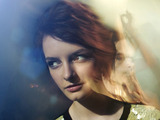 We're just days away from another episode of
Skins
, and it's intense to say the least. Still struggling with Grace's death, Franky turns to someone very unsuitable indeed... it's only Luke!
There's lots going on in the instalment, and we really don't want to give too much away. But how about ten hints about what's coming up? Sound like a good idea? You're in luck - read on for our teasers about what you can expect...
1.
There will be blood. Lots of it, too.
2.
"I'm lonely and scared and I can't trust anyone."
3.
Those of you hoping for a Mini-Franky romance... you might want to look away in this episode. Let's just say there's some tension there.
4.
Someone reveals their feelings for someone else! But are they reciprocated?
5.
Franky's dads are back (hurrah!) But it's not all happy at home...
6.
Matty makes contact with Franky.
7.
"You should be grateful."
8.
Franky takes an interesting approach to mock exams. We wouldn't recommend it.
9.
"You blame me."
10.
A counsellor gets involved.
Skins airs on Monday at 10pm on E4.