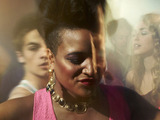 Another episode of
Skins
is just a few days away, and this time it's all about Liv!
She's still struggling to cope with Grace's death, and when Alex leaves town on a little jaunt, things take a turn for the worse...
This is another of those episodes where we don't want to give too much away, but read on for some hints about what you can expect in 'Liv'!
1.
There are not one, but
two
naked bums on show. In the same room.
2.
Mini and Franky might have kissed and made up, but the same cannot be said for Mini and Liv. It's all a bit tense...
3.
Actually Franky's relationship with Liv isn't great either (and some wonderful insults are being flung around). Could it get a little violent? (Yes.)
4.
"I don't want to see you any more."
5.
We get another glimpse of Grace (and another familiar face is back, too.)
6.
"She doesn't even look at me any more. Nobody looks at me."
7.
Worst-principal-ever Doug actually has a very sweet side.
8.
Liv's starting to spend rather a lot of time in a doctors' surgery car park. But why? (We
can
say it's nothing to do with Mini.)
9.
"How come you just get to sit here? How come you're OK?"
10.
Only Mini and Franky know about Mini's pregnancy at the moment. Whether that will be the case by the end of the episode, we couldn't possibly say...
Skins airs on Monday at 10pm on E4.