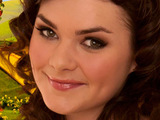 Dani Rayner
's
elimination
from
Over The Rainbow
pulled in 4.69m (24.2%) for BBC One last night (Sunday), according to early figures.
The eviction show, which aired between 6.15pm and 7pm, was up around 200k week-on-week.
Immediately afterwards,
Countryfile
brought in 6.74m (31%) to rank as the most-watched programme of the day on any channel.
Antiques Roadshow
drew 5.23m (20.3%) in the 8pm hour, then the concluding half of '80s drama
A Passionate Woman
managed 5.07m (20.4%), a rise of 360k on last week's opener.
On ITV1,
Foyle's War
averaged 6.17m (23.8%) between 8pm and 10pm, rising over 200k week-on-week.
Come Dine With Me
put in a strong 2.74m (10.6%) for Channel 4 in the 8pm hour, with a further 332k (1.3%) watching on timeshift.
The Restoration Man
followed with 1.65m (6.4%) and 310k (1.6%).
BBC Two's
Tropic Of Cancer
interested 1.52m (5.9%) from 8pm, then the latest Louis Theroux documentary,
America's Medicated
, appealed to 2.1m (8.1%).
Five's screenings of
The Legend Of Zorro
and
Tomb Raider: The Cradle Of Life
put in 1.07m (4.7%) and 1.37m (6.2%) from 6.30pm.
Overall, BBC One averaged 22.9% in primetime, while ITV1 had 17.7%. Channel 4 was third with 7.5% (+1: 1%), followed by BBC Two with 7.3% and Five with 5.4%.
A repeat of Saturday night's
Britain's Got Talent
was the most-watched multichannel programme of the day, drawing 954k (4.6%) to ITV2 from 6.20pm. A further 22k (0.9%) watched an hour later on ITV2+1.
The ensuing repeat of
Britain's Got More Talent
notched up 757k (2.9%) and 284k (1.1%).
New episodes of
24
and
House
brought in 579k (2.2%) and 370k (1.9%) to Sky1 from 9pm.
BARB ratings data supplied by Attentional