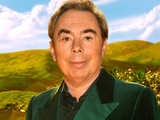 The final five potential Totos in
Over The Rainbow
have been revealed.
Judges
Lord Andrew Lloyd Webber
, Sarah Fisher, Gerry Cott and previous winner of
I'd Do Anything
Jodie Prenger will announce the canine finalists in tonight's results show.
The programme, which airs on BBC One at 7.15pm, follows the ten dogs that were invited to Lord Webber's house in Sydmonton for selection tests.
Staunch cat lover Lord Webber said that his Turkish swimming cats took the invasion in their stride, being "at a superior level of intelligence".
The five potential Totos are Pug/Shi Tzu Eddie, 1; Mini Schnauzer Dave, 1; Beagle Spider, 6; English Pointer type/Red Setter Retriever cross breed Troy, 4.5; and Bearded Collie cross Springer Spaniel Missy, 3.
Lord Webber said: "I somehow could never quite imagine myself being in this position - choosing a dog for one of my shows - but I've really rather enjoyed the process. It hasn't been an easy decision for me, selecting the final five, but I was particularly drawn to the dogs I have chosen. Each of them could be a Toto in their own way. However, as adorable as they are, I remain a confirmed cat-man."
The five finalists will be put through a series of tasks over the coming weeks before the Toto panel select the winning dog, which will appear in a one-off gala performance of
The Wizard Of Oz
in the West End next year.