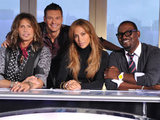 Yes, we know it launched in the US yesterday. Yes, we know Uncle Simon won't be dealing out his usual withering looks and despairing put-downs. But damn it, we're still super pumped and full of Uncle Sam spirit ahead of the UK launch of
American Idol
season 10. With giant-mouthed Aerosmith legend
Steven Tyler
and Jenny 'From The Block' Lopez joining show regulars Randy Jackson and Ryan Seacrest, the world is waiting to see whether its biggest talent show can come back stronger. Stick with
Reality Bites
through the evening as we offer you our take on the new panel, the revamp and, of course, the singers.
21:58:
So, what did you think to the start of
American Idol
season 10? Leave your opinions in the box below or contact us on Twitter (
@dsrealitybites
). Our thoughts? Sugary-sweet, daft, funny, dramatic, OTT, barmy, great singing, bad singing, soppy, thrilling and heartwarmingly predictable. In other words, exactly what we want from
Idol
.
21:55:
Travis sings 'Eleanor Rigby'. He had us with that, but Steven Tyler wants to hear something else. He then covers 'I'm Yours', which is even better than his Beatles cover. This guy could go far and no surprises, 'He's going to Hollywood baby!'
21:52:
Travis Orlando is the last act of the day. He has literally come from nothing. His family were homeless, on the streets and forced to live in a shelter after the recession. He dedicates his
Idol
audition to his twin brother, who stuck by him during the worst times. Honestly we're not crying, it's just something in our eye.
21:50:
So, that's our last ad break. We've just got one more act left to see. We'll take a stab in the dark here, but we reckon this is going to get us weeping into our ice cream. It's chocolate ice cream, in case you were wondering.
21:41:
After a montage of stinking, ridiculous and awful acts, we're due a goodie. Enter stage right, Brielle von Hugel. A 16-year-old who sings 'Endless Love' for her father who has just recovered from throat cancer. She's a sweet girl and she's definitely got a voice to match the sob story and personality. No questions, three yes votes and she's through to Hollywood. Steven Tyler calls her beautiful and we agree with Steven.
21:36:
Do you want a crazy act? Well, say hello to Yoji Pop. A Michael Jackson addict who claims that he was imitating him when he was in the womb. However, today, he is not singing Jackson. He's singing Miley Cyrus's 'Party In The USA'. He sounds like he's having an asthma attack as he whines through the teen pop smash, but his dance moves leave J.Lo in stitches.
21:30:
Are you missing Uncle Simon? I think the biggest compliment I can pay this
Idol
opener is that I've barely noticed that he's gone. Don't worry though Simon, we still love you.
21:26:
Not enough slush for you so far? Well, here it comes in the shape of Melinda Ademi who moved to the US from Kosovo as part of the Green Card Lottery. Her parents take a bow and arrow and fire it at viewers' heartstrings as they recall the gun shots they used to hear out of their windows in Kosovo. And yes, before you ask, she can definitely sing. She's through to Hollywood.
21:20:
Victoria Huggins is up next. After Ashley she seems like an angel, but she's no shrinking violet. Her version of 'Midnight Train To Georgia' is pretty special, but it's her hyper, smiley, cheeky sense of humour that really makes an impact. She's more sugary sweet than a Disney movie covered in Nutella, chocolate frosting and M&Ms - and should probably only be enjoyed in small doses.
21:16:
Katie Waissel - all is forgiven. Ashley Sullivan, a prancing, fame-hungry, screeching, Broadway-wannabe with a Britney Spears obsession has just outdone you in every way. She sings 'Gimme Gimme' from
Thoroughly Modern Millie
, pouts, poses, pleads, cries and makes it through to the next round. Steven Tyler says that he will turn her into something special and tame her. Rather you than me, Steven.
21:11:
We've got a delusional chap called Michael in the audition room now. He leaves Steven, Jenny from the Block and The Dawg in stitches thanks to a singing style similar to a normal person singing underwater. The poor bloke flounces out afterwards claiming that he's been singing for a number of years. Let's hope nobody's been paying him for that service.
21:08:
We're not getting much Seacrest action tonight, which is a shame. The producers are obviously aiming to focus on the new panel dynamic. But damn it, I want more Seacrest next week.
21:02:
The final act in this segment (and you thought
X Factor
had lots of ad breaks) is a spiffing chap called Chris in a dodgy pair of shorts, a dodgier green shirt and even dodgier than that straw hat. He's a charmer, but his vocals are akin to a dog attempting opera. Not even J.Lo can let this young lad through.
20:57:
Awesome, a Steven Tyler montage. Lots of girls who want to inspect Steven's mouth a little close. And even more clips of girls that Steven Tyler wants to inspect further.
20:51:
Depending on what sort of person you are, this is either heartwarming or mushy nonsense. Robbie has a sweet voice with a lovely tone and he's through to Hollywood. No question, the best act of the show so far.
20:49:
After a string of joke acts, next up is Robbie Rosen. He used to be in a wheelchair, he seems like a really sweet kid and he's singing the Beatles hit 'Yesterday'. I think we all know which way this is going.
20:46:
"You were singing your tush-al off!" Steven Tyler wins the prize for best compliment of the night. He's got this judging game mastered already. The
Jersey Shore
girl makes it through to the next stage. Hopefully she'll leave the metal stars at home when she goes to Hollywood.
20:43:
Following the
Jersey Shore
section, we have a girl who looks like a reject from the MTV show. She's got giant metal stars on her boobs and a big bum (she pointed it out, that's not me being rude). However, she's not actually that bad a singer. She's got some pipes on her.
20:40:
We now have a section paying tribute to
Jersey Shore
. This means lots of posing and fist-pumping. For those unaware of all things
Jersey Shore
, don't be alarmed, fist-pumping is a dance move, not anything naughty.
20:38:
Steven Tyler's mouth is hypnotising. It's like a live creature, which is completely separate from the rest of him. Incredible viewing. Also, am I the only person who secretly wants him to burst into a bit of 'Love In An Elevator'?
20:31:
Lots of yes votes early doors, which is handy because J.Lo doesn't look like she ever wants to say no. It's going to take something special to draw that first no vote. Thankfully, a screeching woman from the Ivory Coast does the job. After much swallowing and grimacing, finally J.Lo says the two little letters N-O.
20:30:
Having a discussion on my
@realitybites
Twitter at the moment about Jennifer Lopez films. Has she ever done a good one? Note,
Maid In Manhattan
is not good.
20:28:
Seriously, what has Randy Jackson come as? He's dressed in a school boy outfit, blazer and tie. The big dawg looks like he's having some sort of mid-life crisis.
20:25:
The Warbling Duck is through. J.Lo is forced to put her through after claiming to remember and have loved her four years ago. Steven Tyler also backs her, claiming that they need to "water the flower" and that she has the "whatitis-es". Steven Tyler is already my favourite judge. Possibly ever.
20:22:
The first act is a girl named Rachel who reached the Hollywood stage a few years ago. She sings 'Hallelujah' in an odd operatic fashion. Frankly, she sounds like a warbling duck.
20:20:
The New Jersey auditions kick off in a flipping enormous arena full of screaming fans. Ryan Seacrest runs around shouting at everybody and shouts
American Idol
lots. This is ace.
20:16:
The first auditions are in New Jersey. I've never been to New Jersey and know very little about it, so right now I'm struggling for things to say.
20:10:
Two things remain the same from previous years. Randy 'Dawg' Jackson will still be mumbling and rambling about pitching, while Ryan Seacrest will be doing the whole smooth, slick and ever-so-slightly-camp presenter schtick. The show opens with a quickfire montage of the best, worst and wackiest acts, spliced together with some bantering from the judges.
20:06:
Oh man, sometimes I really wish I lived in America. Everything is twice as big, twice as shiny and twice as loud. The show kicks off with a super-fast flashy intro that plays on the hype surrounding the new judges. If you don't know already - and if you don't, quite frankly, where have you been? - the new dream-makers are Jennifer 'J.Lo' Lopez and Steven 'Aerosmith' Tyler. That's right, there's no Uncle Simon this year.
20:04:
Controversially, I am actually drinking a Pepsi right now. This isn't me taking sides in the
X Factor
/
Idol
wars... honestly. We can love both shows and all get along, right?
20:00:
So the daddy of reality TV is back. Grab a Coke from the fridge, fry up some onions for your hot dog and make yourself some peanut butter and jelly sarnies - it's
American Idol
time!