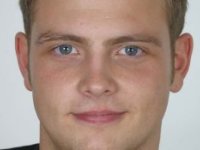 Mark was mobbed by fans on a recent trip home to the West Midlands, he revealed today.
The 21-year-old said a crowd started to gather round him whilst doing a TV interview in his hometown of Darlaston.
"I just wasn't expecting it. I did an interview for regional TV and around 100 people crowded round me asking for my autograph. I actually found it quite frightening," he said.
"The trouble is, you don't know who means well and who doesn't. While I was shopping, I had a few people shout things like 'You're rubbish' and although it didn't upset me, it did worry me a bit. So far, there hasn't been any real aggro and I hope it stays that way.
"I'm not complaining though. This is what I wanted and now I've got it. I¹m still very flattered when somebody asks for my autograph and I make a point of signing every single one."