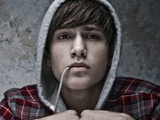 This week on
Skins
, we get to learn a little more about moody skateboarder Freddie. There are reasons for his frustrations, y'see - like having a dead mother, a fame-hungry sister and a nightmare best friend. Actor
Luke Pasqualino
tells us what to expect in the next episode.
One month in now, what sort of reaction have you had from people on the street?
"I was just walking to the office now to do this interview and I got stopped by a couple of people, so it's getting the case now where I can't go out without getting noticed. But it's really good, everyone's really nice and supportive. It's a big compliment when people come up and ask for a picture!"
Do you get many girls approaching you?
"I get a few when I go out. A lot of girls go out in groups, so a group will come up and say 'are you the guy from Skins?' When they hear the word 'yes' they do go a little bit mad. It's just part of the job, really."
How would you say Freddie fits into the trio of boys?
"The way we were told about the boys, when we first got the parts, was like a mother, a father and a child. Cook is the father, Freddie is the mother and then JJ is like the child because he's always torn between the both of us. Freddie's kind of in between JJ and Cook. Cook's the extreme of being a complete nutter, then JJ's the extreme of being a really nice guy. Freddie's a nice guy but he can be a mean guy when he needs to be."
Do you think Cook will change his ways?
"Cook just does what he wants when he wants to and will deal with the consequences when they come up. But later on in the series he realises that he can't be doing this kind of thing and has to sort himself out. So he does sort himself out and he changes a bit."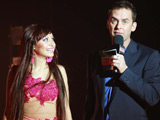 In this week we learn a bit more about Freddie's home life. What's his situation?
"Freddie's got a sister, Karen, who's completely besotted with fame and doesn't care about how she goes about getting it. She uses the fact that they have a dead mother to get votes on a talent show she enters. Freddie's father can't see anything wrong with it but it drives Freddie up the wall."
Why does it make him so mad?
"At first Freddie thinks she should be famous for doing something that she enjoys doing, not just because she wants to be famous. He starts off with the idea that it's wrong but as the episode progresses you see him starting to realise that it's making her happy and maybe she's got a shot at making it. In the whole episode Freddie tries to turn his life around."
Do you think a lot of Freddie's anger comes from the fact his mother died?
"Yeah, I do. He's just constantly reminded of the fact that he hasn't got a mother there - his sister's always going on about it and then he sees his friends with all their mums. I don't know what it's like to lose a mother, but I imagine if you have, it will change your life drastically. Freddie's realised that he's never gonna get his mother back and he doesn't know what to do."
Recently we've seen some hints of attraction between Freddie and Effy. How does that develop?
"Without saying too much and ruining the story, in episode five you do see Freddie make all the right decisions. He's constantly living in the shadow of his best friend Cook, so he decides to start living his life for himself and make all the important people in his life know that they're important to him. That's all I'm going to say on the subject, really!"
And how does his relationship with Cook develop? It gets quite aggressive this week, doesn't it?
"As I said before, Cook is just this madhouse and doesn't care about anything. He thinks he's doing Freddie a favour by bringing Freddie's sister down. He doesn't realise that that's not what Freddie wants at heart. That's all I can say without giving too much away!"
How do you feel about filming the more risqué scenes like sex and drug taking?
"We're all such a close group of friends anyway so nothing's majorly uncomfortable, but it can be slightly awkward when you've got to get your clothes off in front of a big group of crew. In rehearsals we did have to do all that touchy-feely stuff to feel more comfortable with each other. So with the cast it always felt alright, but in front of the crew can be a bit awkward. But it's just a job!"
And did you have to do much stripping over the course of the series?
"I think everyone has their fair share of getting their clothes off. Some of the girls had to have naked shower scenes, like in the first episode. But yeah, a lot of it is quite naked, if you know what I mean! There is a fair bit of clothes coming off."
Finally have you heard anything about a fourth series yet and how do you feel about it?
"I'm on a two-series option, so I'd love to be in it. I don't think the characters have gone as far as they could go yet, so if the commission does go ahead and people like the third series, I'd be up for it. But we haven't heard too much about that yet!"
Skins
continues Thursday at 10pm on E4.
Add your comments to this entry below!