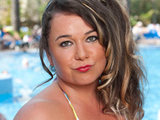 The third interview in our week of
Benidorm
chats is with
Shelley Longworth
, who plays Sam, a new loudmouth rival for Madge at the holiday resort. We gave her a call back in cloudy England to find out more about her role and got the gossip on the cast's karaoke nights, her dodgy costumes and the ITV comedy's upcoming guest stars.
What can you tell us about Sam?
"She is out for a good time. She's from up North. She's from Doncaster. Most people will identify with seeing someone like Sam on the street. She likes to go dancing and wants male attention, but unfortunately her best friend Natalie gets all the men and she doesn't get any. And on the one time she does get a bloke and looks like she is properly going to get some, she has a little nightclub accident. There is something of a mini-Madge about her as well, because she doesn't have a nice word to say about anybody. She's got a sharp wit and dryness about her. Derren has brilliantly written her as a character."
I was going to ask about her outfits, but don't know where to start!
"She does have some pretty risque costumes! Plenty of see-through tops and lacy bras and pretty hideous swimming costumes. I had to get over all my body hang-ups and just say, 'I am this character and I'm pretty damn hot right now'. My boyfriend actually asked if I could keep one of the swimming costumes!"
Will she ever get lucky in love?
"I think she is a little bit doomed. There's not much action to be had in the resort and because it's an all-inclusive, they can't afford to head out anywhere and pick people up. The only night they do go out is the night that Sam ends up breaking a leg falling off a podium. With the broken leg, she was screwed to go out pulling."
What happens with her leg for the rest of the series?
"Well she wears a cast and it's past her knee up to her thigh and I was actually hobbling. They properly bandaged me up in it! They only did it for one day in the end because they realised that they couldn't put me through that torture again. The props guys eventually made me one that could come on and off. It was an uneven tan! One leg brown, one leg white!"
How did you and Kathryn Drysdale get on because you are basically a double team on the show?
"It was really, really good. We lived next door to each other and learned our lines together. It was such a sociable job with the whole cast. We'd go out for dinners together, learn lines on the beach... it's a really great job learning lines on the beach! And the karaoke... now that was fantastic! You'd find yourself in some funny bars with Steve Pemberton doing Billy Joel's 'Piano Man' and the girls and me singing 'Walk On The Wild Side'. Then you'd find yourself somewhere with a Take That tribute band. It was an absolute thrill. Lots of working and then lots of playing hard at the end."
What did you make of Benidorm as a place?
"I was really pleasantly surprised. People go, 'Oh Benidorm', and I'd seen these shows about young kids partying, people throwing up on the beach and generally behaving badly. But when you are there it is actually quite beautiful in parts. There are lots of families and lots of Spanish holidaying as well, which was a surprise. Yes, there are places you can have a good old knees up with cheap alcohol, but there's also parts where you can have some tapas and a nice holiday. It wasn't grotty at all. My parents actually came out to see me and they thought it was wonderful."
I imagine there to be a lot of old people there.
"My boyfriend was actually quite funny, because when he came to visit he said, 'I'm writing a will when I get home'. Hanging around all the old people at the resort had made him think about death and other morbid things.
Benidorm
is Benidorm. All those old people on the mobility scooters you see on the programme, they really exist. There are Madges everywhere. Derren really captured the essence of the place perfectly."
Which guest stars did you meet on the show?
"Bananarama is one of them. Yes! We did a scene together in Neptunes and we went out for a meal together. They were great together those girls. Unfortunately I didn't meet Cilla Black, but everyone else said that she was a treat and really up for it. She wasn't worried about the script or anything like that. And Denise Welch as well, I did a scene with her and went out for a few drinks as well. She was great fun."
Benidorm
airs on Friday at 9pm on ITV1.