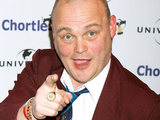 Al Murray
has been a hit on the stand-up circuit since the mid-'90s and he's been performing as his popular comic creation The Pub Landlord for nearly as many years. His latest outing as the Landlord comes in new surreal Dave quiz show
Compete For The Meat
, which offers contestants the grand prize of a frozen chicken.
Tube Talk
caught up with Murray to quiz him on his TV passions and pet hates.
Favourite TV gameshow...
"I used to really love
The Generation Game
. The Brucie era and into Larry Grayson as well. Larry brought a sensibility to it of 'this is all ridiculous'. Brucie will sell you whatever there is and do it anyway he can, which is what he's brilliant at. Whereas Larry was more, 'Well this is all a bit pony'. He did that without ever making anyone thinking it was a bit pony, which is a difficult trick to do. He wasn't telling the audience they were stupid for liking it, he was very, very clever."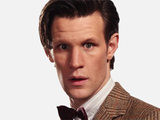 Favourite children's TV show...
"I loved
Doctor Who
. A lot. As a lad, I remember Tom Baker. A bit of Pertwee and a lot of Baker. I did love it and it is a kids show. I'd love to do a cameo, of course I would. Mainly because my kids would think that I was the world's greatest man if I did."
TV guilty pleasure...
"I don't know if it's a guilty pleasure, but I really love
The Cube
. I'm not sure it can be regarded as a guilty pleasure though, because it's not regarded as s**t. I'm not going to be able to say
The Only Way Is Essex
because I don't like that. Actually, I think
Sing If You Can
is brilliantly funny. And mad. That's my guilty pleasure. What's amazing about that show is that it's on teatime on ITV and it's mental. It's all over the place, strange and I really love that show. I love seeing that sort of thing on teatime TV. The unnecessary celebrity panel slack-jawed with wonder at what the hell's going on."
TV hell...
"One thing about being a comic is that you don't get to watch lots of telly apart from in the daytime and I think that helps create a healthy mind, so I'm quite lucky with that. I caught a couple of episodes of
Don't Scare The Hare
the other day and that wasn't a pleasure, let's put it like that. Oh and what's that dance show on BBC at the moment...
So You Think You Can Dance
. I switched over to
Sing If You Can
immediately."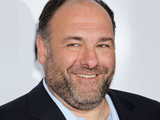 Desert island boxset...
"
The Sopranos
. I love it. It's great that it's on Sky Atlantic now. I've watched them all, but it's great to have them to dip into. You do forget how brilliant it is. I love
Mad Men
, which is the current hot got-to-have boxset, but
The Sopranos
is so superior to everything I think. Brilliantly written, brilliantly cast and beautifully made and directed."
Simon Cowell - TV genius or evil mastermind?
"Those are not mutually exclusive positions. I think he's definitely both. I think it's very interesting that he's going off to America now and what will happen to his shows over here is very intriguing. Without him in them, we're like Australia, Germany and wherever else they have them. It's not his main concern because it doesn't have his face on them. It will be an interesting time for those shows."
Comedy hero....
"He's a very good friend of mine, but I'd have to say Harry Hill. His success in not compromising what he does and making it into the mainstream is an amazing achievement. The brilliant thing about
TV Burp
is that you don't even need to watch TV to enjoy it. It's a brilliant, brilliant programme and he's excellent in it. He's held on to his comic voice, which is a real achievement. I'd love to work with him again and I'm sure at some point we will, but he's got a lot on his plate watching all that bloody
Coronation Street
."
Al Murray's Compete For The Meat airs on Thursdays at 9pm on Dave.