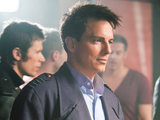 Yes, it's that time of the week again when we all get out the TV listings and try to figure out what's worth watching, and what we'll skip. This week we've got a new show beginning, an old favourite returning for the last time and, of course, some more
Torchwood
exploits. And
Tube Talk
just had to mention a couple of shows that are part of the way through their seasons in case you've missed them so far. So read on to find out what we think might be worth your telly-watching time this week...
Entourage: Monday at 10.40pm on Sky Atlantic
It's the final season! Yes, it's almost time to say goodbye to Vince and the gang - until that rumoured film version pops up, that is. Anyway, we've got a few episodes to go before we wave goodbye, and we're getting them just one day after the US - not too shabby. Expect the standard list of amazing guest stars - Alice Eve, Johnny Galecki and Christian Slater, for instance - and, of course, we'll find out what happens after Vince got caught with that bag of cocaine...
Watch a trailer for the final season of
Entourage
below:
Beaver Falls: Wednesday at 9pm on E4
E4's had a fair amount of success with its homegrown shows in the past, but will
Beaver Falls
be able to continue the tradition? The show focuses on a group of British male graduates - including, weirdly, Alf from
Lark Rise To Candleford
- who decide to head over to California to work in a summer camp. There are so many ways that could go wrong - and it's a safe bet
Beaver Falls
will examine all of them! This could be the next
Inbetweeners
, or it could be quickly forgotten. Either way, though, it's got to be worth tuning in for the first episode to see whether it's worth your time.
Watch a trailer for
Beaver Falls
below:
Torchwood: Miracle Day: Thursday at 9pm on BBC Two
So, it's time for that controversial third episode! The BBC sparked controversy about this instalment when it emerged that it would be editing a sex scene involving Captain Jack - although it promises it won't make much difference to the story. Aside from all that palaver, though, we should be in for another treat of an episode. Apparently, Torchwood goes on the run and finds a new enemy (oo-er). They also decide that it's a good idea to launch a raid on PhiCorp - which leads to Jack confronting Oswald. We reckon that could be a scene to savour!
Watch the US trailer for the next episode of
Torchwood
below:
Castle: Friday at 9pm on Channel 5
The
seventh
episode of
Castle
is airing on Friday - hasn't it gone quickly? There might only be a few instalments left, but
Tube Talk
thought we should flag it up again in case you've still not given it a go. At its heart,
Castle
is a basic procedural, but it's just ridiculously fun to watch - a true guilty pleasure. Nathan Fillion is a joy, and his chemistry with Stana Katic is quite something, too. This week, someone's murdered in the swanky Upper West Side. Perfect Friday evening after-work fare.
Watch a trailer for the first season of
Castle
below:
In Treatment: Friday at 10.15pm on Sky Atlantic
Again, this is one that's been on for a few weeks now but deserves your attention! The show follows therapist Paul (Gabriel Byrne) as he treats different patients - Mia, April, Oliver and Walter. Then he gets a bit of therapy himself! It's a slow, sumptuous show - everything's in the little looks and the short silences. It's so beautifully crafted that it's actually hard to comprehend that real people put it all together. You can probably jump in now if you haven't watched already - this week's patients are April (who's struggling to come to terms with the fact that she has cancer) and, my favourite of the season, Oliver (who has to cope with his parents splitting up). It's fabulous television, and fully deserving of your time.
Watch the cast and crew talking about the second season of
In Treatment
below:
What are you looking forward to watching this week? Leave your comments below!