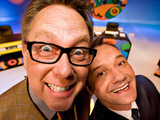 Who cares if it's sunny outside? There's a whole week of television waiting for you to watch! And if it's raining (again), then what better excuse than to sit back and switch on the box? There's all sorts of stuff on in the next seven days, from documentaries to odd comedy to quality music, so check out what we think's worth a look...
Shooting Stars: Monday at 10pm on BBC Two
It's back! Yes, Vic and Bob are back for the oddest panel show on the box. Who knows what we can expect from the new series? Well, we know some things about this first episode - the guests include chef James Martin, funny man Ross Noble and
Celeb Big Brother
alum Brigitte Nielsen. There's no point predicting what could be coming up, but if you like your comedy surreal, then you'll already be marking down the days until
Shooting Stars
begins.
Watch some clips of Jack Dee in the new series of
Shooting Stars
below:
Who Do You Think You Are?: Wednesday at 9pm on BBC One
No-one would have expected a show about genealogy to become such a big hit, but
Who Do You Think You Are?
has certainly managed it. And it's back this week for a brand new series, with another great lineup of celebrity ancestor-hunters. This first episode features
EastEnders
legend June Brown travelling to Amsterdam and Spain to discover her family history.
Who Do You Think You Are?
is always absorbing, and there should be some treats to look forward to as well - next week's JK Rowling, and other celebs doing some digging in the episodes to come include Alan Carr, Richard Madeley and Emilia Fox.
Torchwood: Miracle Day: Thursday at 9pm on BBC One
Alright, so we include
Torchwood
most weeks - last Sunday, we gave you a brief respite - but in episode five,
Miracle Day
really starts to heat up! Things start in a fairly routine fashion, as Rex, Esther and Vera go undercover at one of the Overflow camps to expose the forces behind PhiCorp, but events soon begin to spiral wildly out of control. We get a few more answers as to who or what is behind the miracle, and there are some shocking reveals in store! Meanwhile, Jack can't let go of his latest obsession, while Oswald prepares to address the nation.
Watch a clip from this week's episode of
Torchwood: Miracle Day
below:
BBC Proms 2011: Friday at 7.30pm on BBC Four
How about something a bit different? If you fancy sitting back and relaxing with some great music on Friday night, you could do worse than checking out the Proms. Don't worry if you're not a big classical music buff - it's all film themes tonight, so you should feel right at home. As well as songs from
Harry Potter
and
James Bond
, prepare to get freaked out by
that
music from
Psycho
...
Law & Order: UK: Sunday at 9pm on ITV1
It's the last in the series for ITV1's solid take on the classic US crime drama, as Brooks (Bradley Walsh) and Devlin (Jamie Bamber) investigate the shooting death of mother and carer Lia Brown. 12-year-old Kaden Blake (Jamie Cummings) may be their only link to solving the case, but will a vengeful London gang silence the boy before he can help the police? Former
EastEnders
and
The Bill
star Lucy Speed guest stars in this climactic instalment, while
Blake's 7
legend Paul Darrow also reprises his role as Justice Prentice - good stuff!
Watch a clip from
Law & Order: UK
below:
What are your TV highlights this week? Leave your opinions in the box below