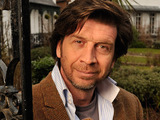 Nick Knowles
might be a busy man - he works on everything from
DIY SOS
to game shows - but that doesn't mean he doesn't have time to sit down and put his feet up in front of the telly.
Nick's hosting a new documentary on Yesterday this week,
The Forgotten Blitz
, so
Tube Talk
took the opportunity to find out his televisual treats and TV terrors.
Read on to find out why TV presenters are psychotic lunatics, why Nick didn't like
The Social Network
, why
Made In Chelsea
is reality TV he can get into, and why he's a bit of a Gleek who wants Sue Sylvester on
DIY SOS
...
On The Forgotten Blitz...
"It's about a story that I discovered accidentally while I was doing a programme called
Original Features
, where we look at the social history of houses. In a house in Exeter, I discovered that the people in this house in 1942 had gone to bed and had woken up the next morning to find five streets of houses completely gone in an overnight blitz, in a city that had no real value as a target. They described it as a Baedeker bombing - apparently, the German high command had decided to bomb our most beautiful cities as identified in a pre-war tourist guidebook. It's a bit like if we decided to attack a country now and used the
Rough Guide
to do it. I discovered that the British high command - we were losing the war pretty badly, so they decided to attack a couple of German cities that were particularly beautiful and made of wood, because they would burn. The German high command then redirected the Luftwaffe to attack cities of civilians rather than military targets. It was basically a turning point in the war that probably made a change but a huge number of cities that normally wouldn't be attacked in the war were attacked and there was a huge loss of life. I found out Bath was the worst hit of the cities in terms of loss of life so I decided to make the film based around Bath. Most people don't even know that Bath was ever attacked, so it's almost like a forgotten blitz."
On still enjoying DIY SOS...
"12 years in and we're better than ever. We've upped the stakes over the last two years - we're doing what we call the "big builds" which are vast undertakings to do whole houses in nine days... We invite the local community to come and join in and make it happen. So far we've been very lucky that they have and in huge numbers which has been very reassuring. I think people like the programme because when times are tough and tight and we tend to think community's disappeared it's quite reassuring to see people turn out in vast numbers for no benefit to themselves, for the benefit of people less fortunate than themselves. It's got a big community feel while maintaining the original p*ss-taking builders' soap that it always was."
On his favourite kind of show to work on...
"I like them all in different ways. I'm essentially a programme-maker, so my interest has always been in trying to make programmes better. I was a runner, researcher and producer and director before I was a presenter, so my view has always been to see what TV doesn't do particularly well and see if we can improve on it. Makeover shows were a little bit trite so I wanted to do one that was more like a building site and had honest building site humour about it. I thought history programmes were pretty badly made so I made a history programme. I'd like to do some more science. I've just written my first film... I've just written my first novel. I've written some dramas for the BBC so I thought it might be nice to see if I could write a novel. It's just trying to do things that I haven't done before."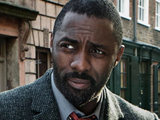 On whether he prefers to watch drama or factual...
"That's really difficult because what I like to watch is good telly. I'll watch huge amounts of natural history. By the same token, I thought
Luther
was brilliant and I was absolutely glued to that. I'm also a big fan of
Big Bang Theory
. I'm even a bit of a Gleek as well. To be honest, I quite like
Glee
. My watching is about as random as my career, really."
On his desert island box set...
"
The West Wing
, probably. I'm just about half way through the entire box set again. I watch it in the gym - I stick a DVD in and watch two episodes while I'm on the cross trainer. It's just genius, absolute genius. I love it. I really like Aaron Sorkin as a writer, but I didn't really like
The Social Network
. It got on my t*ts to be honest. It was as if it had been filmed and edited with the attention span of your average Twitter user, so no scene was more than about 12 seconds long and it just really got on my nerves in the end.
Charlie Wilson's War
- that was another Aaron Sorkin and that I really liked, so generally I'm a big fan of Aaron Sorkin although I didn't like
The Social Network
."
On his TV hell...
"I'm not a big fan of reality programmes. Although I have to say, I watched
Made In Chelsea
accidentally the other day and I laughed my t*ts off. Especially the David Brent character with the beard. Um..."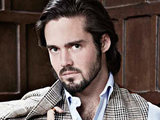 Spencer?
"Spencer, yeah! He's the one. He looks like David Brent with a beard, doesn't he? And he's a complete kn*b. I tweeted recently, 'What a hilarious comic character, who wrote him?' to find out that these apparently aren't actors, these are real people, aren't they? Which is hilarious. I'm going to have to bump into them at some stage because they are hilarious."
On whether he'd do reality TV...
"Not if I can possibly avoid it, no. I did it once for
Comic Relief
- I did
Fame Academy
for
Comic Relief
which was like doing karaoke in front of 9m people every night. But that was for
Comic Relief
so it wasn't like I was looking at a record contract or anything. I did it for a charitable cause but I pray to God that when my career finally goes t*ts up that I disappear into the sunset and never darken the doors of a reality programme."
On his favourite children's TV show...
"That's difficult, isn't it? I liked
Pinky And The Brain
- that was very cool. In fact, my girlfriend calls me Pinky and I actually think she's the brain because she's small and quite evil - in a lovely way, obviously. When I was a kid it was
Thunderbirds
and stuff like that. There was a programme called
Catweazle
that I really liked, which I think somebody ought to bring back."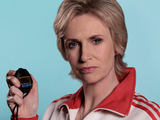 On his guilty pleasure...
"It would have to be
Glee
, wouldn't it? I like it. I know people take the p*ss out of it but it's actually really non-PC. I think Sue is incredibly funny. Sue would sit perfectly well on an episode of
DIY SOS
. I'd really like that - that would be hilarious. Actually I think we're going out in America and it's going quite well. They've taken to it because my builders are quite non-PC."
On his dream TV cameo...
"I'd like to be a villain in something like
Taggart
or
The Sweeney
. No, I'd like a bit part as an evil lunatic in
Luther
."
On acting...
"I've not acted for years and years and years. Two years back when they redid
Oliver
in the West End, they asked me if I would be Bill Sykes because they thought I looked the part - a slightly lunatic wife-beating East Ender, which is a bit worrying. I very seriously considered that for a while, but no, I haven't acted in a long time. It's about time I did, so I'm looking for a juicy acting role in something, as long as they don't get me to act as a TV presenter or DIYer or something like that. If anyone wants me to shave my head and be a psychotic lunatic in a film then I'd like that very much."
On whether he has any inspirations for a psychotic lunatic...
"I know loads of psychotic loons. I work with them all the time. I work in television - of course I know psychotic lunatics. Most of them are presenters."
Any names?
"All the usual suspects, and you know exactly who! Everybody knows who the psychotic lunatics are."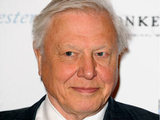 On his TV hero...
"It's [David] Attenborough, isn't it? Attenborough is a TV god. I've been lucky enough to make some films with the natural history unit and sat with him - he and I chatted about the rugby union. I find him a very honest, down-to-earth, entertaining person to chat to. He's just brilliant. The one thing that he's done that so few people have managed to achieve in all the time they've been looking for other natural history presenters is he's always had this amazing ability to tell you with enormous enthusiasm about whatever it is he's talking about without ever appearing smug about the fact that he knows more than you do. Unfortunately it's one of the pitfalls presenters fall into a lot when they know a lot about natural history - they're determined to show you how much they know about it and how clever they are. Whereas Attenborough, you know he knows everything - though he'd argue that he doesn't - and yet he's never trying to show off that he's clever. There are so many presenters that could actually learn if they could only stop trying to show how clever they are, they would come across a lot better. Like Nicky Campbell! Nicky's a really intelligent bloke but he always tries to ask the longest, most intelligent questions to show you how bright he is. If he actually just stopped trying to show how bright he is and got on with trying to be the really good journalist he is he'd be a lot better at it. Is that going to be your lead quote now?"
That, or, 'All TV presenters are loons'.
"They are! They're all psychotic loons. They're impossible. You can't date them, you can't be friends with them, they're lunatics, all of them."
On whether he's a psychotic lunatic...
"To a certain extent I probably am. I like to think I'm probably one of the more sane ones but by the same token I have my moments. It's almost like a disease that gets into you when you suddenly become a TV presenter - it sort of goes with the territory. But I'm lucky enough to be surrounded most of the time by West Country builders who, the moment I get above myself, give me a clip round the ear or tell me how far up my own arse I've disappeared. They're quite brutal about that, which tends to keep my feet on the ground."
The Forgotten Blitz is on Thursday at 9pm on Yesterday.