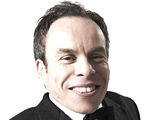 There's more top telly from both sides of the Atlantic this week - Julie Walters is scintillating in Peter Morgan's update of his 2002 legal drama
The Jury
and BBC Two are bringing the laughs with the debut of the much-anticipated
Life's Too Short
and a new series of
Rev
!
And if you're a US TV fanatic, there's a few treats in store for you too - the decidedly creepy FX smash-hit
American Horror Story
makes its way to UK shores on Monday night, while
The Mentalist
is also back on our screens! Read on for more info on our top picks!
The Jury: Monday at 9pm on ITV1
We had a television event last week with Channel 4's
Top Boy
, so do you fancy another? ITV's got
The Jury
, which starts on Monday and airs every night this week. The pedigree's certainly amazing - Julie Walters leads an all-star cast, and the show's been penned by Peter Morgan (he's written a couple of little films like
The Queen
and
Frost/Nixon
, apparently). What's the show about? Well, it's a courtroom drama, and follows the case of an alleged murderer. But more than that, we learn about the jurors, too - and there are funny stories and serious moments to enjoy. If you didn't see the first series of
The Jury
nine years ago, don't worry - it's a completely new plot. And you'll certainly have questions at the end of episode one...
Watch a trailer for
The Jury
below:
American Horror Story: Monday at 10pm on FX
Ooh, this is a weird one. Either you'll absolutely love it, or, well, you won't
hate
it, but you'll be very confused. That being said, it is an absolute must-watch (unless you're easily offended. Or easily frightened, for that matter).
American Horror Story
comes from the exec producers of
Glee
, but if you're expecting something along the lines of
Casper the Friendly Ghost
, you're very much mistaken. Instead, we follow the Harmon family, who move into a haunted house after the husband has an affair. Expect all kinds of bizarre activity (and characters), alongside a bunch of classic horror movie references. We'll watch anything with
Friday Night Lights
star Connie Britton and
Six Feet Under
legend Frances Conroy, but if they don't persuade you, we'll say this - Jessica Lange is brilliant as the creepy neighbour. This is like nothing you've seen on TV, but it's already been given a second season, so feel free to get attached.
Watch a trailer for
American Horror Story
below:
Rev: Thursday at 9pm on BBC Two
Hurrah! If you fancy some gentle - but still very funny - comedy, you'll be pleased to hear that
Rev
is back for its second series!
Rev
was a bit of a sleeper hit the first time round, but if you watched it, the chances are you fell in love. Now there's an opportunity to either revisit the Reverend Adam Smallbone, or meet him for the first time. This episode has some great guest stars, and it's just a simple, lovely watch. And the Archbishop of Canterbury's a fan. Recommendations don't come much better than that, right?
Watch a clip from
Rev
below:
Life's Too Short: Thursday at 9.30pm on BBC Two
But the Thursday night comedy doesn't stop with
Rev
- stay tuned to BBC Two at 9.30pm for the launch of the new Ricky Gervais/Stephen Merchant comedy!
Life's Too Short
charts the exploits of dwarf actor Warwick Davis, as he struggles with both a disastrous personal life and flagging career. Davis is brilliant as a desperate, frequently exasperated version of himself, while Liam Neeson makes a terrific cameo. Stay tuned in the coming weeks for guest appearances from the likes of Johnny Depp, Helena Bonham Carter, Steve Carell and - oh yes - Shaun 'Barry' Williamson.
Watch a clip from
Life's Too Short
below:
The Mentalist: Thursday at 10pm on Channel 5
Fans of this solidly entertaining US crime-drama were left with jaws agape at the conclusion of the third season, as Patrick Jane (the charismatic Simon Baker) apparently gunned down his long-time nemesis Red John (Bradley Whitford). But is everything as it appears? Season four picks up with Jane in jail and the CBI team under investigation, but will our hero remain behind bars? Can Van Pelt (Amanda Righetti) recover after her fiancé was exposed as a mole? And is Red John really gone for good?
Watch Owain Yeoman (Wayne Rigsby) discuss the future of
The Mentalist
below:
What are your television highlights this week? Let us know below!