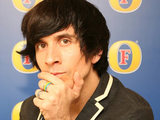 We all love a bit of comedy in our lives, so it's very good news to hear that
Russell Kane
's DVD has made its way into the shops. If you haven't already got a copy, what's wrong with you?
To celebrate the release, we caught up with Russell to find out what
he
likes watching on TV... and what has him reaching for the remote!
On chatting about TV...
"It might not be easy because we have no bloody lives, stand-ups. We hardly get to watch it. But go!"
On his TV comedy inspirations...
"I literally have none! When I started to do stand-up, I'd never seen stand-up in my life. It was before Michael McIntyre made comedy on television for everyone.
Live at the Apollo
had barely started.
"In the house when I was growing up, my dad just had Jimmy Jones and Roy Chubby Brown, Laurel and Hardy and the Three Stooges. I'd never been to see stand-up, I didn't find stand-up funny, I found it boring on TV and I'd never seen it live so I didn't know how it good it was. It just wasn't part of my life. And then someone at work said, 'You're quite funny, you should perform and do stand-up', so I said alright, googled 'stand-up', and just did the first gig I could get.
"Since then, there are loads of comedians I admire and think are brilliant, but no-one inspired me, which is weird. Not many stand-ups can truly say that."
On panel shows vs scripted comedies...
"It depends on the scripted comedy. If series three of
The Office
was suddenly made, there's no panel show on Earth that could make me watch it instead. But 90% of scripted comedy, I don't think it's meant for me, so it doesn't make me laugh that much.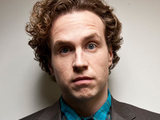 "There's some good things on with genius in them for young people at the moment.
Pete Vs Life
, I love that. Absolutely brilliant. On paper, how can that work - two men commenting on a scene? It just sounds like something that some middle-class people came up with in a brainstorm, but it really f**king works. The other one is
Him & Her
. Very good - I like that."
On his desert island box set...
"I would probably take something quite manly because I'm so feminine that I'd be scared I'd turn into a woman if I was on my own on a desert island. So I'd probably take something like... what's the one that was on before
The Pacific
, the better one?
Band of Brothers
. I'd take that, because otherwise I'd just evolve my uterus and mate with myself."
On his TV hell...
"The news. Just starving people, people suffering. I just think, 'Oh my God, I just went backstage and had a moan because there weren't any teabags'. And I switch on the TV and there's some poor f**ker in Somalia who hasn't even got any grain for breakfast. I just feel absolutely awful at my petty complaints.
"Or there's some revolution in Middle Eastern countries - they're fighting for democracy and the right to be heard and earlier that day I got annoyed because my Argos ticket was ten along the line. The news just freaks me the f**k out and scares me. I'd rather watch
Question Time
if I'm in that intellectual political mood. I like watching the fights on
Question Time
whereas the news is like, 'This is how it is - sit and listen to it. There's nothing you can do'. Oh my God, we're all going to die!"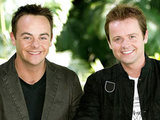 On reality TV...
"Well, I work on
I'm A Celebrity, Get Me Out Of Here... Now!
I love it. It depends on the programmes. I like
I'm A Celebrity
because it takes all these people who are usually wrapped in glitter and reduces them to the core components and we can all have a look at how difficult and human they are. I actually think it's quite good for our celebrity-obsessed culture to see the normalness of celebrities."
On whether he'd ever be a reality TV contestant...
"No! I've done one thing, I did
Let's Dance for Comic Relief
. But if I did anything reality-based it would need to be highly ironic and not taking myself seriously, and it would need to be raising money for a good cause, not putting a fee in my pocket just to publicise myself as myself."
On The X Factor...
"I've got a First in English, I love fine literature, I just did
Mastermind
and my specialist subject was the life and novels of Evelyn Waugh. I might be a pikey from a council estate, but I've read a lot, and I'm comfortable enough in my own intellect to watch whatever the f**k I want without some snob to tell me some TV's in one category and some in another.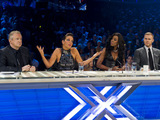 "There are three categories of
X Factor
viewer. There's those like me who say, 'Yes, I read Dostoevsky, yes I like BBC Four, but you know what? I love
X Factor
as well. I sob at the semi-finals and I laugh and gasp at the auditions'. There's no contradiction in that.
"Then there's group two - the people that go, 'You know what? I don't watch any of that s**t, I can't bear it', then they cry at the semi-finals. Hypocrites and liars. Then there's group three, who go, 'I don't even have a TV in the house, I'm so above it. I just cover myself in houmous and dance in the garden'. I do group one.
"I'm missing Simon a little bit on
The X Factor
, but I have to say Barlow - revelation or what? Everyone could love the audition and someone's sung like an angel and then Cowell goes, 'I didn't see it to be honest, it was average'. We'd pretend to be horrified but everyone loves a bully with a good haircut."
On the judges...
"I think like most of the country I wanted to dislike the change. I wanted to be like, 'Oh, it won't be the same without Cheryl and Simon'. And it's fricking brilliant! I fancy Kelly and Tulisa really badly. Louis is the same, isn't he? 'I like you, I think you've got the X factor, I'm going to put you through'. Always something positive to say. And Gary manages to be both cuddly and endearing and mean at the same time. It's not easy to pull off."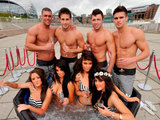 On his guilty pleasure...
"
Geordie Shore
. I think it's because I studied sociology and stuff at college - you can look at it just like some people banging the s**t out of each other on Nightvision, or you can think, 'What the hell is going on in these people's heads when they do these things?' It's just so shocking when you see actual, full-on pumping in Nightvision - Jay's arse going like a sewing machine in a power surge."
On The Only Way Is Essex...
"They created a new genre. Regardless of what you think of the people, hats off to the people who made that programme - 'It's reality TV, but we're going to slightly tell them what to do'. That should not f**king work, but my God, it works. People who don't understand it have missed the point. It's highly ironic. In a way it's taking the p*ss out of reality TV but using reality TV to do it. F**king genius."
On his favourite kids' TV show...
"Obviously all the cartoons,
Thundercats
and that. I seem to remember having a passing fancy for
Rosie and Jim
. I liked the broom cupboard and all the different presenters - I quite liked Andi Peters. I thought he was brilliant. I was definitely a
Blue Peter
fan.
Blue Peter
had everything, didn't it? I loved trying to make s**t from the TV. I'm rubbish at it though."
On his dream cameo...
"
The Only Way Is Essex
! I got my agent to write to them saying, 'Is there any way I could do a gig in the Sugar Hut, or signing DVDs and doing an impression of Mark and he sees it and something kicks off?' I've got genuine Essex credentials, so I've got an excuse to be in it."
Russell Kane: Smokescreens & Castles is out now on DVD.