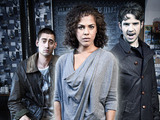 Good news if you're a fan of the supernatural - US drama
True Blood
returns to FX this week, and the outstanding fourth series of
Being Human
also continues!
On top of that, a cult US series finally returns to the UK and a revamped and rejigged
10 O'Clock Live
is back on Channel 4. Read on for all the details on what you should be watching over the next seven days...
Leverage: Tuesday at 10pm on FX
It's been a long old wait for
Leverage
fans, but finally season three is hitting the shores of the UK, courtesy of FX. And as if that wasn't good enough news, season four will follow suit in the near future! First episode back 'The Jailhouse Job' sees Nate (
Timothy Hutton
) locked up in a supermax prison. But, of course, he's still working on the sly with his old team and is soon hot on the case of Damien Moreau, a rich, powerful and untouchable crime lord. Be sure to tune in, and check out
Digital Spy
's
recent interview with Leverage star
Gina Bellman (Sophie Devereaux) too!
Watch the FX trailer for
Leverage
season three below:
10 O'Clock Live: Wednesday at 10pm on Channel 4
10 O'Clock Live
might have had a bit of a mixed reception for its first series, but with its strong lineup of presenters there's definitely potential there. We're glad that there's a second run, anyway - previous episodes have had strong moments (take the Paul McMullan-John Prescott face-off) and with a bit of tweaking, we're interested to see what the show could be. There's a shorter running time now, and there
are
expected to be changes to the format. Hopefully they'll be for the better and we'll get some breaking news for Lauren Laverne, Jimmy Carr, David Mitchell and Charlie Brooker to sink their teeth into.
Watch a clip from the last series of
10 O'Clock Live
below:
Mad Dogs: Thursday at 9pm on Sky1
It arrived with much fanfare, but the second series of
Mad Dogs
is already drawing to a close. In the final episode, Baxter (John Simm), Rick (Marc Warren), Woody (Max Beesley) and Quinn (Phillip Glenister) are offered a reprieve while being held hostage - they can regain their freedom, but only if they complete a seemingly impossible task? Will the lads survive? We suspect so -
a third series is already filming in Cape Town
...
Watch a trailer for series two of
Mad Dogs
below:
Being Human: Sunday at 9pm on BBC Three
We were pretty much blown away by
the epic Being Human series four premiere
, and the quality remains high for episode two! In 'Being Human 1955', a new supernatural trio arrives at Honolulu Heights to visit a bewildered Annie and Tom - aged werewolf Leo, the ghostly Pearl and charismatic vampire Hal. We got a taster of Damien Molony's new bloodsucker in episode one, but this week, he really comes into his own. But don't be fooled by Hal's suave exterior, he's got a terrifying past that's he's keen to forget...
Watch a trailer for
Being Human
below:
True Blood: Sunday at 10pm on FX
True Blood
starts tonight (February 5), but if you're reading our picks later in the week, don't worry - the first episode is repeated on Friday at 10pm. But whenever you see it, it's good to know that the fourth season is on our screens! There's loads going on, too - witches (including a Fiona Shaw performance so hammy it'll make you hungry), werewolves and, of course, vampires. The season has some great moments - particularly related to the fabulous Eric - and one thing's for sure... it's never quiet in Bon Temps!
Watch Deborah Ann Woll chatting to
Digital Spy
about the fourth season of
True Blood
below:
What are your TV picks this week? Share your favourites below!