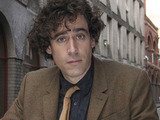 There's another week of television coming up, so we've gathered together some of the best things on the box to give you a bit of a guide to what's coming up!
There's a big mix, with new episodes of two of our favourite shows, the return of an odd detective, a new comedy series and an epic drama. Want more details? Read on to find out which five programmes we think are worth your time this week!
Dirk Gently: Monday at 9pm on BBC Four
He's back! After a successful pilot last year, BBC Four commissioned a three-part series focusing on the bizarre detective Dirk Gently (and based on books by Douglas Adams).
Stephen Mangan
's back to play the slightly odd man who spots connections in apparently unconnected events. It's brilliantly silly and odd and there's great support from stars like Darren Boyd and Jason Watkins. If you're bored with all the standard crime dramas, why not give this a chance?
Watch a clip from
Dirk Gently
below:
White Heat: Thursday at 9pm on BBC Two
This is the sort of ambitious drama we like to see on TV!
White Heat
focuses on the lives, relationships and problems of seven students living in a flat in the 1960s. And it doesn't stop there - we follow them all the way through to the present day. There's a super cast (Claire Foy, Sam Claflin, Juliet Stevenson and Lindsay Duncan to name just four) and it feels so carefully put together - the production is beautiful. And hey, we get '70s hairstyles - what more could you want? It all adds up to seven intriguing personal storylines set against the backdrop of huge political and social change. Definitely worth a watch.
Watch a trailer for
White Heat
below:
The Sarah Millican Television Programme: Thursday at 10pm on BBC Two
If you're a fan of stand-up comedian Millican, you'll want to check out her new television vehicle.
The Sarah Millican Television Programme
is pitched somewhere between a stand-up gig and a chat show - in this first episode, the topics up for discussion include wildlife and dating shows. Sarah's guests this week are naturalist and
Springwatch
presenter Chris Packham and sex expert (or 'sexpert' if you must) Tracey Cox.
Being Human: Sunday at 9pm on BBC Three
Who doesn't love sweet-natured Tom (Michael Socha)? The werewolf may have a chance of happiness this week when he runs into Allison - played by
Upstairs Downstairs
star Ellie Kendrick - a socially awkward young woman who shares his curse! But are the loved-up pair under threat from creepy Cutler (Andrew Gower)? Meanwhile, Hal (Damien Molony) enters the dating world and Annie (Lenora Crichlow) must help a fellow ghost to cross over.
Watch Michael Socha discuss
Being Human
with
Digital Spy
below:
Homeland: Sunday at 9pm on Channel 4
This smash-hit US drama just grows more compelling each week - you'd be a fool to miss episode four, the compelling 'Semper I'. Brody's (Damian Lewis) profile is rising and he's attracting the attention of the Vice President, but the former marine's increasibly erratic behaviour is proving a cause for concern. Meanwhile, Saul (Mandy Patinkin) is determined to hunt down terrorist Abu Nazir (Navid Negahban), but with her surveillance warrant due to experience, Carrie (Claire Danes) resorts to extreme measures to prove Brody's guilt.
Watch Channel 4's trailer for
Homeland
below:
What are you looking forward to watching this week? Let us know below!