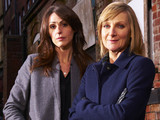 Time for five more picks from the next seven days of televisual goodness, and this week there's a nice balance between home-grown UK shows and the best offerings from across the pond! Crime drama
Scott & Bailey
returns, sci-fi series
Alcatraz
makes its UK debut and ITV's
Love Life
(
not to be confused with the forthcoming BBC drama of the same name
) also kicks off - plus there's more besides! Read on for all the details...
Scott & Bailey: Monday at 9pm on ITV1
Scott & Bailey
was something of a surprise hit when its first series aired last year and quickly won over the public. Now Suranne Jones and
Lesley Sharp
are back for more crime fighting! If you enjoyed series one, you'll be pleased with what ITV's serving up this time - the opening episode is part of a two-part story as Scott and Bailey investigate some gruesome killings. Of course, there are battles on the home front too - Rachel's brother swans up and Janet's mum isn't making things easy for her husband. Oh, and look out for guest star Lisa Riley!
Alcatraz: Tuesday at 9pm on Watch
JJ Abrams - the TV supremo behind the likes of
Lost
and
Fringe
- unveils his latest drama offering on UK screens this week.
Alcatraz
stars Sarah Jones as Rebecca Madsen, a San Francisco homicide detective tasked with investigating the mysteries of the infamous island prison. At her side are Alcatraz expert 'Doc' Soto (Jorge Garcia) and the enigmatic Emerson Hauser (Sam Neill).
Alcatraz
won't change your life, but it's mindless, popcorn entertainment of the best kind. Former
Lost
star Garcia is particularly good value as a comic book enthusiast turned crime fighter.
Watch a promo for
Alcatraz
below:
Grey's Anatomy: Wednesday at 10pm on Sky Living
Grey's Anatomy
has been around for so long now - it's in its
eighth season
- that it doesn't often break into our
Must-See TV
list. But this week you're being treated to a Very Special Episode! Yes, after last season's divisive musical, it's time for things to go a bit unusual in Seattle Grace. This time, there's no singing - instead, we get to see what could have happened if Meredith's mother hadn't died. Yep, it's a parallel universe! Expect some very weird sights and lots of treats for longtime fans of the show. Sure, it doesn't move the story on in any way whatsoever, but it's a fun little ride.
Watch a US promo for the next episode of
Grey's Anatomy
below:
Love Life: Thursday at 9pm on ITV1
It's Thomas the footman as you've never seen him before! Yes,
Downton Abbey
's Rob James-Collier stars in this three-part romantic drama. When his girlfriend Lucy (Andrea Lowe) suggests they think about having a baby, Rob's character Joe gets itchy feet and goes travelling around the world for months. When he comes back, he's a little bit surprised to see that Lucy's now with child... It's all quite sweet and warm, with a performance from a certain Alexander Armstrong to enjoy too.
Eastbound & Down: Thursday at 10pm on FX
This US comedy - starring Danny McBride (
Your Highness
) as foul-mouthed former baseball pro Kenny Powers - won't be for everyone, but if you get sucked in, you're a fan for life. The third, and sadly final, season makes its UK premiere this week, as Kenny returns home for his son's first birthday. But when April (Katy Mixon) comes to Myrtle Beach, our hero finds himself in a whole world of trouble! It's a strong premiere, and keep your eyes peeled later this season for appearances from returning guest stars Will Ferrell and Matthew McConaughey...
Watch a HBO trailer for
Eastbound & Down
below:
What are you looking forward to on TV this week? Let us know below!Gr